Happy PRIMEDAY!! …. Oh, yes and Happy Tuesday!
This week is going to kill my bank account because of all the sales going on. Primeday and the NSale…. #yikes But that's why they are called sales because at the end of the day you are saving money!
If you are an Amazon Prime member, today you can take advantage of all the amazing deals and steals ONLY for Prime members. So if you are not a member yet, sign up here! You are guaranteed FREE shipping and it is usually 1-2 day shipping! AMAZING! I use it at least once a week for so many things. So if you checked out my Insta-Stories yesterday, you probably think I am a CRAZY person by this point! PrimeDay is like Round 1 of Black Friday for me!
This sale started last night and I took advantage immediately. Of course I was rocking and rolling the second it opened up! I am sharing some of things I purchased and some amazing deals that went LIVE today!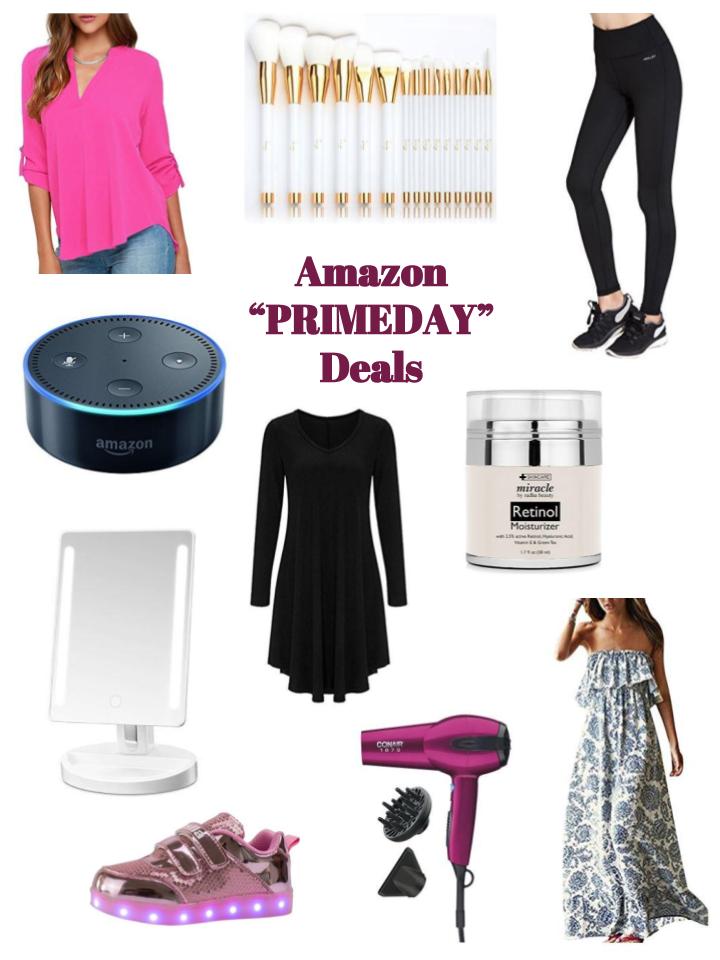 Chiffon V-Neck Top – I cant get enough of this pink color. It comes in 10 other colors. Size up!
Makeup Brushes – These are the prettiest brushes I have ever seen! And mine are all currently brown 🙂 These are half the price!
Yoga Leggings – Highwaist, stretch, SPANX.. Enough said! 🙂
Amazon Echo Dot – This is like a mini Alexa but way cheaper! You can control anything in your house with just your voice. Its on sale for $35!
Swing Dress – This dress comes in 15 colors, long sleeve and short sleeve and is the comfiest thing ever! Size up if you prefer a looser fit    
Radha Moisturizer w/ Retinol – I have used this stuff for the last month and I can totally see a difference in my complexion. It has also helped my dark spot from tanning. I purchased two of them because of the price! Such a steal!
Portable Vanity Mirror w/ LED Lighting – Y'all, this was the first item in my cart! I can now get ready anywhere like a celebrity. Its only $30!
Toddler Light-up Sneakers – I die for these… anyone with a little girl needs them! I kinda want some for myself 🙂
Conair Cermaic Hair Dryer – I have this hair dryer and paid $45 for it. Its on sale for $23! Its better than some other high end brands Ive used.. worth it!
Strapless Boho Maxi Dress – I am all about a good maxi dress. This one is on sale for $20! Love the pattern for summer
On Prime Day, you'll find thousands of one-day-only deals, but very few of them will really be worth your money. That's where I come in. I will be keeping you posted on deals as they come rolling in all day. I will update these links as things start selling out. Stay up to date on all of today's deals over on Instagram and follow along on Insta-Stories!
Are you a prime member? What deals have you found for Primeday?
Brittany 🙂
SHOP THE POST: