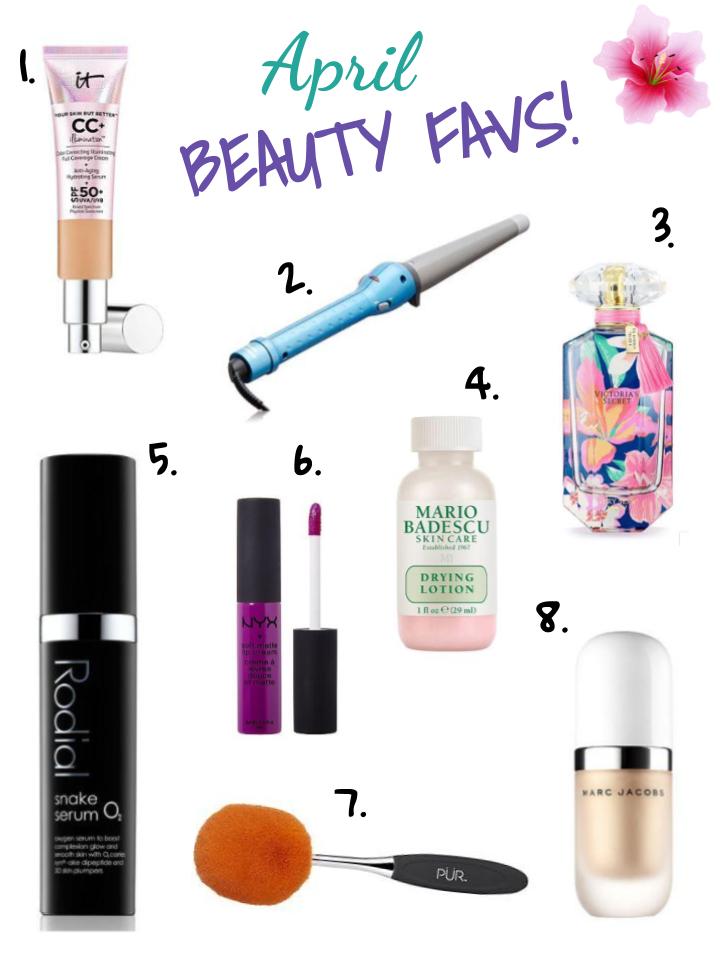 1. IT Cosmetics CC Cream : Yup,I know I am late to the game but I couldn't help but share of course! I was so stuck on my go-to Makeup Forever foundation, I didnt want to change. Finally took the plunge and decided to try the CC cream. This stuff is amazing and cuts my routine time in half! And my skin still looks fresh and clean. SPF50 is a huge must have !
2. BabyBliss Curling Wand: I can create beachy S-waves within a few seconds per section. I have medium-long hair and lots of it, and I can style my whole head within 20 minutes. I love this wand! And it rarely catches or breaks my hair. Totally affordable compared to other brands.
3. VS Love Spell Perfume : Absolutely love this scent. This was my first VS perfume purchase, and I must say I am pleased. I use the lotion and perfume together, and the scent lasts all day indoors. I love fruity scents so the guava is what attracted me to try it out.
4. Mario Badescu Drying Lotion:  THIS IS THE MOST AMAZING THING IVE EVER USED.  The first night I used it, it was a little messy but I didnt apply correctly. I put a dab on two spots that were creeping up… both acne spots were gone the next day!  Its pretty much a magic cream for pimples!
5. Rodial Snake Serum:  This stuff is AMAZE!!!  inspired by the effects of the temple viper venom, smoothes the look of skin and reduces the visual appearance of wrinkles.
6. NYX Matte Lip Cream:  I love the vibrant color of this product! I have received so many compliments when I wear it because even though it is a brighter color, it still makes a difference to your look! I love it! If it lasted a little longer it would be perfect but i mean for the price…I won't complain much about it!
7. PUR Foundation Brush: I have been looking for a foundation brush to replace my dying kabuki. This makes putting on my foundation easy and smooth. If you don't want to go out and buy a set, this is a good choice.
8. Marc Jacobs Highlighter : I absolutely love this product. I use it over my foundation and can see a difference immediately. It gives such a beautiful, natural glow. The coverage lasts all day and smells amazing.
What are some beauty products are a loving?
Brittany 🙂
Linked Up With: Style Me Wednesday Link Party , What I Wore Link Party, Trend Spin Linkup,  I Feel Pretty Link Up, Trendy Wednesday Link Up, What I Wore Wednesday w/ Tucker Up, Oh, Hey Girl Link Up, Jersey Girl, Texan Heart Link Up, Fashion Frenzy Link Up {and click here}
SHOP THE POST: