Happy Wednesday babes….
Y'all… its February!! What?!?!
I can't believe that we've already gone through an entire month in 2017.  Welcome to my very first monthly favorites post!  I wanted to start this new series in 2017 so that I can share with you the best products I've tried throughout the month.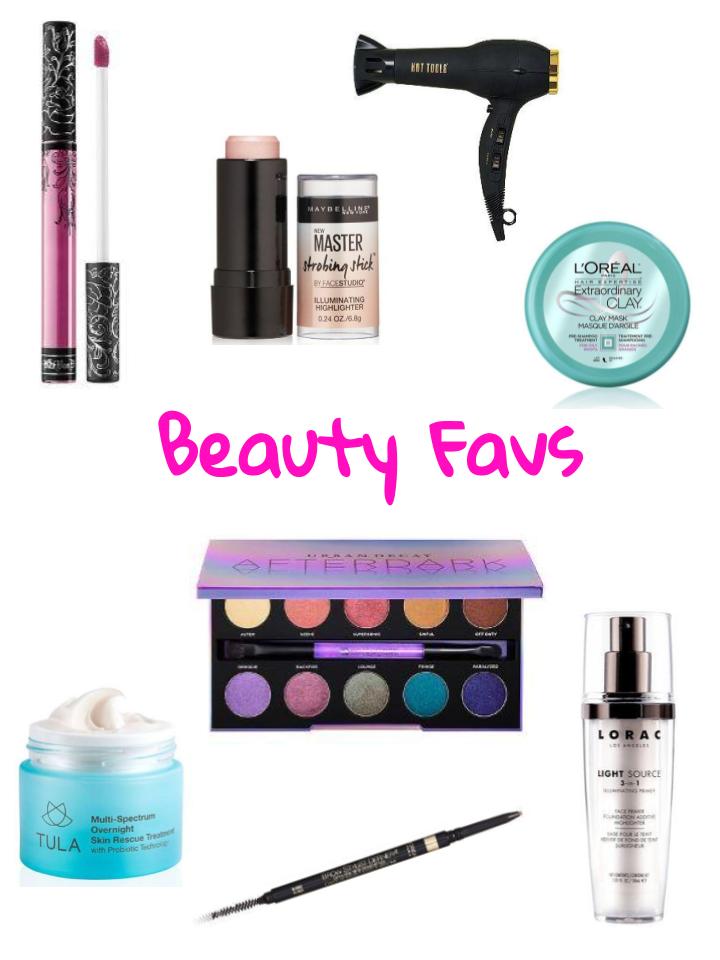 Kat Von D Everlasting Liquid Lipstick: 
My new favorite lippie! Its long-lasting and high-pigment color makes my life so much simpler! It applies as a gloss but dries to a true matte finish. It comes in 28 colors according to Sephora! Yes please!!
Hot Tools Turbo Ionic Hair Dryer: This has changed my hair drastically. I never paid attention to the damage hair dryers can cause to hair but this one sends ions into the airstream depositing them directly onto the hair. It helps break apart water molecules for faster drying. This has helped condition and soften my hair while reducing frizz.
Brow Stylist Definer in Blonde – I regularly use the Anastasia Brow Wiz eyebrow liner and needed a replacement in a pinch so I googled a good dupe for it and this L'Oreal pen came up. So far I'm really impressed with the quality – especially for the price! It doesn't go on as well as the Anastasia one so you have to do a good job coloring in but the color and the size of the pen are almost identical.
Loreal Extraordinary Clay Mask: It really exists, and it's ideal for those of us with chronically oily roots. Apply the mask before you shower, and then rinse. The blend of three clays absorb excess oil so you can redefine what it means to be squeaky clean.
Urban Decay Afterdark Eyeshadow Palette: Urban Decay does duo-tone shades like no one else, and this palette has six of them. This nighttime must-have also has six metallic shades all in jewel tones which are perfect for fun nights out with the girls.
Lorac Illuminating Primer: Instantly bring luminosity and life to your face while preserving your makeup throughout the day with LORAC Los Angeles Light Source 3-in-1 Illuminating Primer. This paraben-free, high-pearl primer is infused with light diffusing, soft focus pigments for a silky smooth, luminous glow.
Tula Overnight Rescue Cream:  Another game changer! I have really been trying to focus on bettering my skin and I started with Tula products. This is y far my favorite face cream to date. It works with your natural nightly repair process to reinvigorate skin overnight.
SHOP THE PRODUCTS:
What are some beauty products you are loving lately?!?
Brittany 🙂