HEY Y'ALL!!!! We are back home from Me-hico and I am a little "crisper" (aka burnt) than when I left! 🙂
We had a total blast but I am glad to be back home with my babes! Stay tuned for a recap and some fun pictures tomorrow 🙂
Today, I wanted to stop by and share one of my favorite sales of the year!!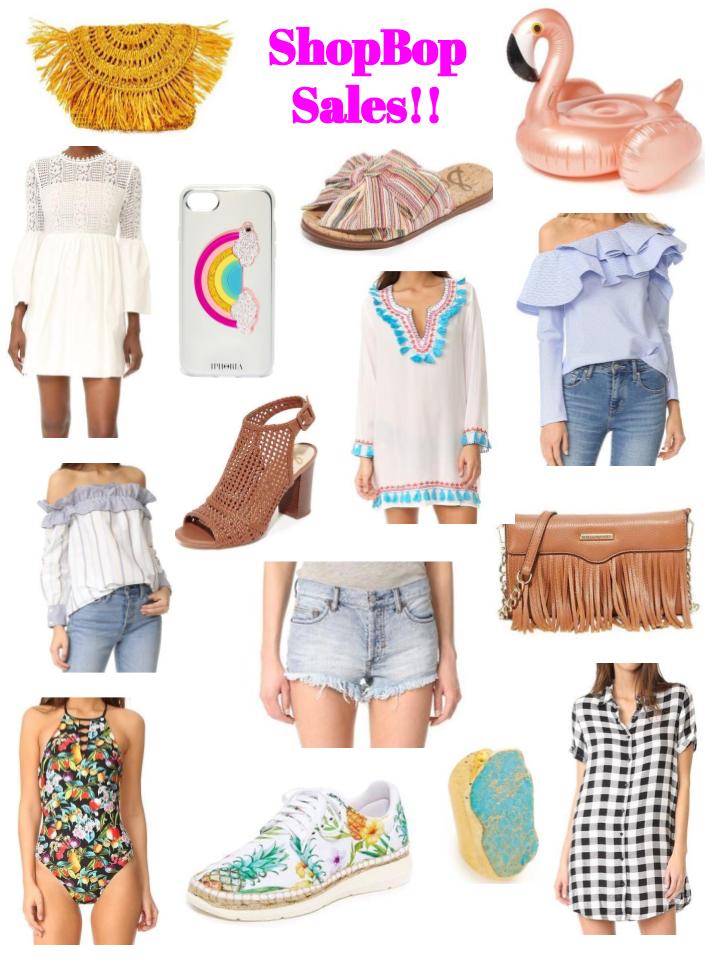 Straw Clutch // White Lace Dress // Phone Case // Bow Slides // Flamingo Float // Tassel Tunic // Blue Ruffle Top // Peep Toe Booties // OTS Top // Fringe Crossbody // Denim Shorts // One-Piece Suit // Pineapple Sneakers // Turquoise Ring // Gingham Dress
Shopbop is having their event of the season sale this week which includes NO minimum order! All of the bright colors and fun prints are getting me excited for summer. And those pineapple sneakers are making me raise my hands to Jesus!! I have already put them in my shopping cart!!
 Here are all the details and codes for the SALE!!:
Get 25% Off Orders of $500 or more with code EVENT17
Get 20% Off Orders under $500 with code EVENT17
In case you missed last week's post, I hosted a blog survey for readers to fill out. If you havent had a chance to do the survey, I would greatly appreciate and and all feedback. One lucky reader will win an awesome prize! You are automatically entered just by doing the survey. If you already have, THANK YOU, THANK YOU, THANK YOU!!!! 🙂
Create your own user feedback survey
Y'all are the best! 
Happy Pre-Friday!
Brittany 🙂