If you are anything like me then you are super psycho about Black Friday! Once Thanksgiving lunch/dinner is over, I am putting on my fat pants, grabbing my "sippy cup" and grabbing the hubby's credit card 🙂 Usually me and my mom are out the door by 6pm ready to tackle the crowds. But I am ALWAYS posted up for the online shopping deals and steals the second they are released…. which for most retailers is a couple days before Black Friday!
I have been an avid Black Friday shopper for years and have learned some tips and tricks to help you survive all the madness. I wanted to share some of them with you so you can be prepped and ready to rock n roll! I mean, we are a week away from the most popular shopping day of the year! Why not be on top of your A-game and SAVE, SAVE, SAVE!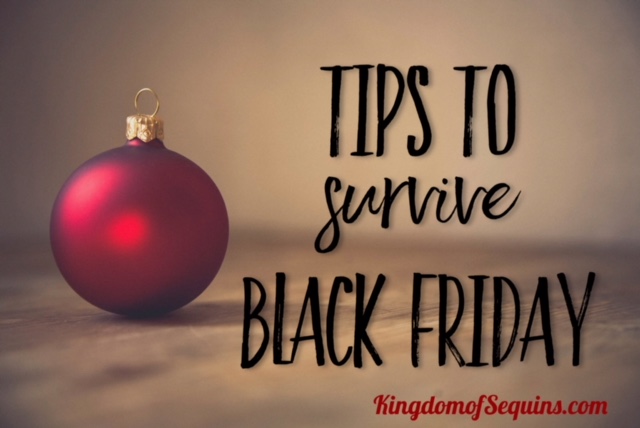 Before all the madness…..
Get Your Game Plan Set
Having a plan is key because it ensures you won't be overwhelmed once the sales start being released. Write down every single person you need to buy for, set a budget, and ask for gift ideas before Thanksgiving. This will help you figure out which retailers to check out and what stores to visit. I'm easily distracted by any additional percentage off sign, so my list helps me stay focused. It also helps me avoid accidentally shopping for myself (does anyone else have this problem??). This is by far my most important tip for Black Friday survival. Put your hubby in charge of the little ones and grab your mom, girlfriend or head out solo for some shopping fun. Any mom will undoubtedly agree we are about 400% more productive without a screaming toddler repeatedly asking for fruit snacks in tow!
Do Your Research
A lot of the big box stores have had their Black Friday ads out for a few weeks, so you no longer have to waste precious time on Thanksgiving Day deciding if the bargains are worth the hassle. Also, if your mom loves a specific store, browse the website ahead of time to come up with a few ideas of things she might like in your price range. It will save you time on Black Friday aimlessly looking at tables of sweaters trying to come up with gift ideas. I am also going to do my best to be the best resource for all your holiday shopping needs. I plan on rounding up all the best sales for Black Friday and Cyber Monday and sharing them here and on social media. You can also check back on the home screen for holiday gift guides to make shopping easier so you can focus on what the holidays are meant for… family!!
Stock Up On Pricier Items
If there is something you have been looking at for awhile but dont want to break the bank, Black Friday is the time to stock up. Most retailers put the more expensive items on sale so take advantage of the mark downs while they last. These are the items you will need to put in your shopping cart ahead of time so the second the sales start, you are already a step ahead of everyone else. This brings me to my next tip…….
Fill Up Your Cart NOW!
Timing is everything with limited bargains. The earlier, the better, if you have your eye on items that you know will sell out fast. I have already started filling my cart with hot items that usually are the first to go. I started doing this a couple years ago and usually get everything in my cart. So future reference, if there is an item you KNOW you need, put it in your cart and pull the trigger the second the sale begins. Many sales will kick in at midnight, so you'll be able to check no matter how early you're planning on getting in line at the local big box retailer. For some stores, you can order items online and pay the Black Friday price, then pick them up at your local store.
Have Fun With It:
Black Friday shopping can be intense for some people. But I wish I could tell every single one of them to calm down! Yes I know I mentioned being a little "crazy" over being on top of all the deals but the one you don't want to do is panic. This just means you cant think in the middle of all the chaos. My philosophy is that if you're too intense, you'll end up emptied handed, not getting the things you want. If you're out there having fun with it and not putting the stress of needing to get every single item on your list, it will all be worth it!
Why You Need Amazon In Your Life
Amazon marked the start of its holiday shopping season by launching its Black Friday Deals store. Amazon announced that the Black Friday deals will start on Friday, November 17 and go on for 10 days.
You can now purchase more than 100 million items that are eligible for free shipping, as well as save up to 30 percent on everything from toys and electronics to home goods and wardrobe must-haves. To grab the best deals before the others, I advice you to become Prime members. ( Try Amazon Prime 30-Day Free Trial
 ) You will get early access to Amazon Black Friday and the Cyber Monday 2017 deals. You can simply cancel your free trial after 30 days if you do not wish to become an official member. Subscribe PRIME here
And keep in mind ~ if you have an Alexa enabled product (such as the Echo, Echo Plus, Echo Dot or Tap), you'll be able to get early access to the deals when you order using Alexa! (Early access will start for Prime members at 8pm EST on Wednesday, 11/22). If you already know what you want, you can just set up the Watch-a-Deal alert feature, and you'll get a notification when that item is on sale.
Aside from checking in regularly to this page, if you're serious about bagging a bargain this Black Friday, an Amazon Prime subscription is recommended. Last year, Amazon gave subscribers early access to some of its blink-and-you-miss-them Lighting Deals – which you tend to find on the Today's Deals page. These usually center around items where stock is low and don't last for long.
Top Amazon Deals
Kindle Paperwhite: $89.99
Starting November 19th, the Kindle Paperwhite will be $30 off. This device is very well-rated, available in black or white, has an adjustable light, and long battery life. Prime members also have access to over a thousand titles – free!
Amazon Cloud Cam: $99.99
Starting November 23rd, the Amazon Cloud Cam will be $20 off. It's an easy, affordable way to monitor your home 24/7! It also has night vision, perfect for watching your baby – or what's going on outside your home at night. It also pairs with Alexa so you can see your live feed on your Amazon Fire TV, Fire Tablet, Echo Spot, or Echo Show.
Echo Plus: $119.99
Starting November 23rd, the Echo Plus will be $30 off. Use this device to control your other smart devices in your home – from music, phone calls, alarms and timers, check traffic and weather, and much more. Alexa can also control your thermostat, sprinklers, call an Uber driver, and play any genre of music you can think of! This is the first time I've seen this product discounted, so I'd definitely consider biting if you've been wanting the Echo!
Fire 7: $29.99 
Starting November 23rd, the Fire 7 will be $20 off. This has got to be the most affordable Fire I've ever seen come from Amazon! At this price, it's practically a stocking stuffer! The All-New Fire is thinner, lighter, and has a longer battery life than previous Fire tablets. This tablet would be perfect for playing games, reading ebooks, and watching movies.
Fire HD 8: $49.99 
Starting November 23rd, the Fire HD 8 will be $30 off. This Fire boasts up to 12 hours of battery life and is built more durable than the iPad! It has Alexa built-in and is perfect for playing games, reading ebooks, and watching movies.
OTHER Rumored Sales & Deals
Fire TV with 4K Ultra HD $59.99
Echo Dot $34.99