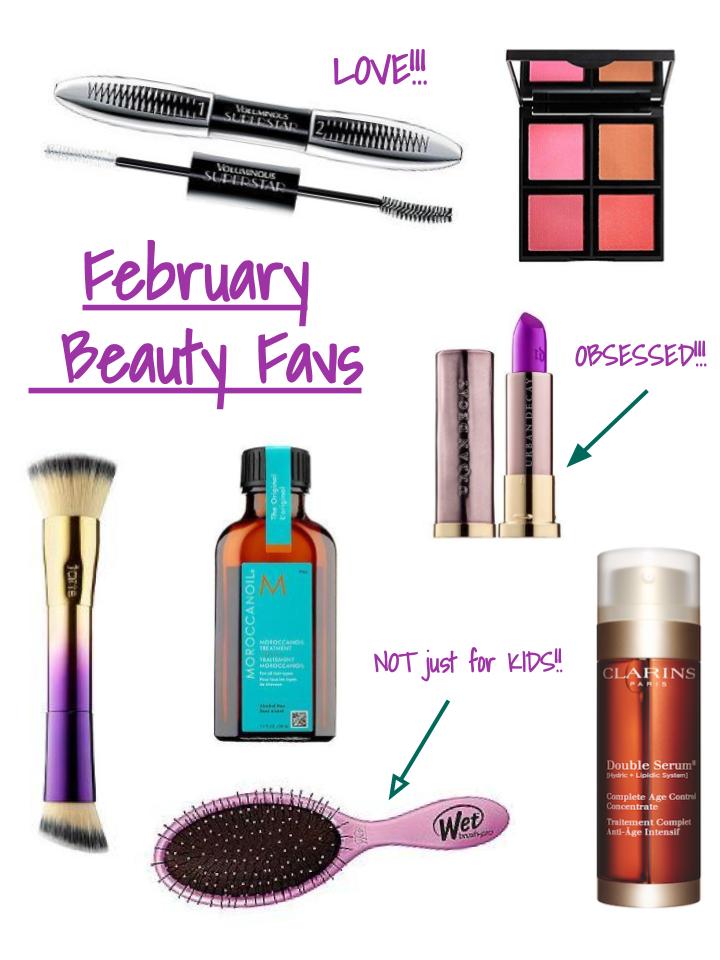 I have just recently branched out from my usual lipsticks and wanted to try the Urban Decay lip products. Y'all… they are good!!! I was so surprised at how highly pigmented the lipsticks are and the colou pay off. And y'all know I love my purple lippies and this one does not dissapoint! 
ONE of my new favorite mascaras! I love the primer end of this one. If you build it up- your eyelashes will be SOOO long and so beautiful.
I use the bottom right color most often, but I will also use the two colors on the left when I feel like changing things up. I've also used the top right color to set my under eye highlight in the past. FUN FACT: Those little squares pop out, so if you wanted to buy the palatte in dark and light, you could move them around to mix and match your favorite colors into one pallet.
Heaven in a bottle!!! I absolutely love this product.. This is the number one selling Clarins products…on both sides of the pond! It has also helped with my pores 🙂
I'm a Moroccanoil fan! All of their products have been great for me. I use this on damp hair before blow drying and it helps smooth and add shine. I also use it to tame flyaways and frizz. I am happy with this product overall. The only downside is that especially if you use too much, it can leave the hair looking a little greasy after a long day.
This brush is a must have for anyone who likes an easy full coverage brush. The application is smooth and the finish is unbelievable! I've been stuck on the beauty blender for a while but this brush has taken its spot and then some for me! Also, I've been using it for a few months now and haven't had any issues with the brush hairs falling out at all
The Wet Brush* is my go to for brushing my hair, whether it's dry or wet. It's a godsend. I remember using this as a little girl for dance competitions… GAME CHANGER!! No more tears during every outfit change! And now I re-introduced it to myself and I am so glad I did!
Have you tried any of these? What are some of you recent favorites?
Brittany 🙂
Linking Up With:
Style Me Wednesday Link Party
What I Wore Link Party
The Wednesday Showcase
What's Up Wednesday Fashion Link Up
I Feel Pretty Link Up
Trendy Wednesday Link Up
What I Wore Wednesday
What I Wore Wednesday w/ Tucker Up
Oh, Hey Girl Link Up
Jersey Girl, Texan Heart Link Up
Fashion Frenzy Link Up {and click here}
SHOP THE POST: