Hello second week of September!!!
  I would never want to wish away the last days of Summer, but I'm actually super pumped about Autumn already. So excited in fact, that I wanted to share five transitional pieces for your closet to help take it from Summer to Fall.
Transitional months can be challenging when it comes to knowing what to wear, what the weather will be like, which trends to try out; you need pieces that will help you plan outfits to cater for most weather. When you think about planning outfits for transitioning into fall, layering is the key. Choose pieces that are light, flowy fabrics and will work both layered over or under other pieces. Weather can be changeable, even throughout a day so when you plan your outfit always include a piece that can be added or taken off.
I am sharing five transitional pieces that you can style between seasons.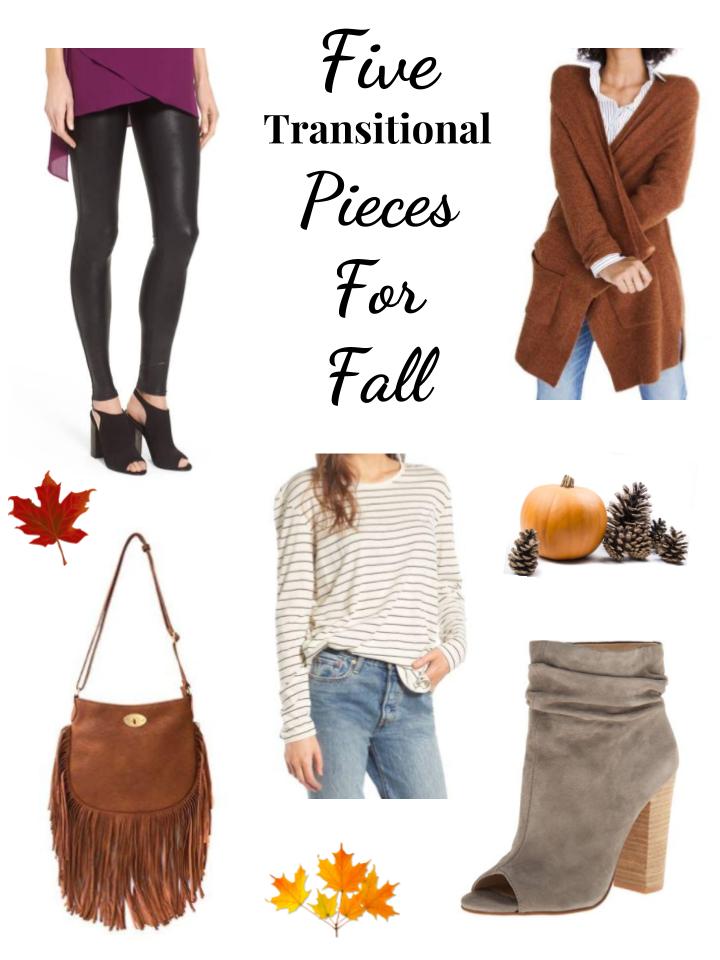 These SPANX faux leather leggings are the most flattering "pants" you'll ever own!  Equippied with a subtle high-waisted control top, that shapes problem areas like your tummy, thighs, hips and butt, they run true to size and fully stocked. My mind is seriously blown that they are still available, because they are THAT good! They suck it ALL in!!
You can never go wrong with a cardigan that just screams versatile. A classic cardi is the perfect layer for fall – not too heavy but has just enough warmth to fight the chill the in air. Cardigans are also a great for keeping your everyday styling simple and chic. I couldn't think of a better color for fall than this camel brown. The Madewell Kent Cardigan may end up being your favorite purchase all season long.
Simply the easiest and most versatile piece in my closet. Stripes are perfect for every season. They're so easy to style which is why I always resort to a striped shirt whenever I'm in a rush. I also think striped shirts instantly make you look polished! I like my shirts and tops slightly over-sized, so I stuck to my normal size in this one; this tee runs big. It's machine-washable and dries perfectly, and I can't get over how soft it is. A winner, for sure.
If there is one thing I definitely update for fall, its my everyday bag. This fringe crossbody is oversized and so edgy. The color just screams fall and will go with everything!!! The fringe makes it a fun bag to wear out and about.
I think everyone needs to own a pair of these! Being a shorty, these ankle booties automatically elongate my legs. They can be worn year round because of the peep toe and multiple color options. They blur the lines of shoes and seasons, so it gives you more flexibility. This makes them the perfect shoe during "trans-seasonal" times of the year! Think about it… your big winter boots can only be worn during really cold months, right? Well, since these are a combination of a bootie and a sandal, they can be worn during different seasons!
 SHOP THE POST: