Happy New Year Friends!!
 Back to reality and back to turning dreams into reality! I hope all of you had a great holiday and are recovering from the hustle and bustle. I am pretty excited to start a new year, fresh. Back to blogging, today I wanted to share something that has been a struggle for over the last year. Working a full time job and trying to run a blog while being successful at both! Oh yea, AND being a mommy, a wife and making sure I am not missing out on all the memories! I have learned the good and the ugly of blogging.
I know a lot of people who have blogs and have a full-time job too. It's possible, but keeping up with a blog is also hard work at times. There can be simple ways to help keep your blog ticking with regular fresh content going up, without losing your mind over it. I've being balancing a full-time job and a blog for about over a year now so I thought I'd take the time to share what I've learned, and how I personally make time for a blog while also get all my other sh*t done too.
Whether you are blogging for hobby or planning to make it your full time job in the future, you have to have a solid plan and a made up mind. Blogging can take up so much of your time so you have to make sure you spend every minute wisely. If you're like me, you can't spend every waking moment of every day writing, editing, photo taking, Insta-gramming and continuously trying to connect, connect, connect!
You have a life.
P.S. this is just stuff I do, so I'm not saying that these are the golden rules or anything. It's simply some things I do that really help me balance a lot of stuff and make sure I'm happy and fulfilled. Blogging brings me so much joy and lots of spontaneous brilliant things in my life have come from it.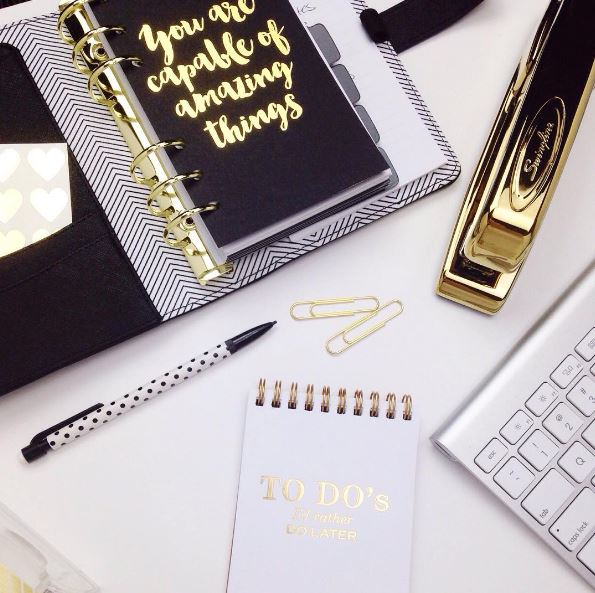 PLAN OUT
"Failing to plan is planning to fail." Have you every heard of that? This is so true in blogging. When I started out blogging, I never really had a game plan or planned out my posts. Now, to keep it consistent and to help manage my time, I schedule each post an entire week ahead. This helps me breathe everyday! I've found that the best way to maintain an active lifestyle and steady job, while still consistently push out great content, is to plan better. Specifically, planning the parts of the day that most people forget about. HINT: Wake up early!!
This is what a "normal" day could look like for me:
-Wake up at 6. Answer emails & try to get two or three blog posts finished.
-Get the house and humans ready for the day & head out the door.
-Work, Work, Work (On the way home, brainstorm and plan the evening's writing goals)
-Family time, dinner, get Ridge ready for bed
-Blog/Catch up on social media until about 8 or 9 pm
– Head to bed and attempt to get at least 6 hours of shut eye.
SCHEDULE & AUTOMATE
If thinking of a post takes time, every blogger would agree that PROMOTING takes more time. To be a successful blogger you gotta put in the work!! So whats the trick? You cannot spend time on every social media channel at the same time right? Unfortunately no – that's not how it works. The key is to pick at least TWO of your favorite or most successful social media outlets and focus on these. Whether its Instagram & Facebook or you like to Tweet and Pin. Personally, I prefer Instagram & Pinterest. I have grown these accounts the most over the last year.
To help keep these outlets consistent, I have started scheduling my posts every day. Whether it be based on a recent blog post or an outfit I want to share, I always try to schedule all posts the day before. This makes my life way easier and I can focus on day to day stuff rather than having to spend 20 minutes posting to all social media outlets.
CONNECT & COLLAB
Wouldn't life be great if you can just submit a blog post and be done with it?… That would be too easy right!?! But you have an audience, readers and fellow bloggers (which by the way are real people) to connect with. Blogging is such a powerful way to make new friends and loyal readers! Connect with them on social media, help out, seek advice and ask for help. If you want to get exposure to your blog, you have to get it out there and share with the world. I have met the most amazing people through the blogging community and so many I'm blessed to call friends.
Blogging is competitive. We all know that. I for one know how it feels to see another blogger working with an awesome brand and feel like I could do that. It's particularly difficult if you aim to make a career of it because, after all, brand partnerships are a huge part of that. However, you can help things along a little by simply reaching out to brands yourself. A lot of bloggers are afraid of this, and I understand why, because I used to be there.
However, contacting brands with the intention of getting "freebies" is not the best idea. Not only is that presumptious but you'll probably be disappointed. See it as an opportunity to introduce yourself and be kept in the loop with what the brand is doing. You may be asked to review items. You may be invited to events. You may be offered sponsored post opportunities. You may also not. This is why it helps if you have a genuine passion for the brand and want to know about new releases and information in advance.
Remember, the press and PR office is a busy place so don't take up too much time. Introduce yourself, your blog and ask to be kept in mind for future press releases. Attach your media kit, which should have all your statistics up to date, so they can find out more about you if they are interested.
PRIORITY CHECK
You have to make room for the other things that surround you – like family, your kids, friends and of course, your blog. So how can you do this without losing your mind? Here are a couple ideas…
–Home Life –  This is top of my priority list, I'm talking about the every day duties of running a house. These actions involve and affect the people living in my home, so it includes what we consider "family time." Home life and family time is what life is all about and I never want to miss out on the memories
– Grab a calendar– Write down the events that are important to you and your family (i.e. anniversaries, birthdays, vacation etc)
-Office tasks – This is where the challenge begins! You cannot control the pile of work at the office but most certainly you have some "break time" when you can snooze in with your blog. I personally check my blog or write down some posts during lunch break or if an idea pops up in my head, I update the blog during office meetings (sorry, boss!)
SET REALISTIC GOALS
This is important! Don't say to yourself you're going to blog 4 times a week when you just don't physically have the time. Don't allow yourself to feel like a failure before you've started. Go easy on yourself. 1 blog post every 2 weeks? 1 blog post a week? Factor in your small dedicated space, get your ideas on the table and then don't take it too seriously. Do whatever you can do. Whatever is achievable. Then onwards and upwards from there.
Blogging Essentials & Tools:
 iPhones Notes
I write on my iPhone notes or iPhone Pages app if I get a random idea. I will sometimes write my social media captions if I can ahead of time… I am all about the time management if you haven't noticed 🙂
Canva
My most loved tool ever! Canva makes every blogger happy and to the fact that the interface is so straightforward (drag-drop) has multiple options (templates) and tons of free items! Canva is great for creating collages, media kits, pinnable and shareable images, etc. They have a variety of templates available. While many of them are free, they also have premium elements that you can use that cost $1 a piece.
Google Products – Analytics, Drive
Google has a whole host of products that are great for bloggers. I use many of them on a regular basis. Google Analytics is the industry standard for tracking your stats, and it's also free. If you don't have it installed, I recommend doing that ASAP. I use Google Drive for storing photos (and sharing them with others) as well as all of the document creators – it's much more convenient than using Microsoft Word, and it makes it easy to collaborate with other bloggers on projects! I especially love using Google Forms to collect information.
BoardBooster
I can't say enough good thing about BoardBooster. If you're not familiar with this website, basically what they do is help you with anything and everything related to Pinterest. The two main features that I constantly use are the scheduler and looper. The scheduler allows you to set a schedule for when you want your pins to go out. That way you can schedule 10, 50, 100 pins to be repinned onto your own account or group boards everyday. The looping feature takes your old pins at the very bottom of your boards and repins them to the top. That way your old pins are revived and BoardBooster will even go back and delete any pins that have a low repin rate.