Today's post is all about my love/hate relationship with working out!!!
Since last summer, I've slacked off the workout wagon. Well, I like to think of it less as falling off the workout wagon and more as jumping on the chinese delivery/french fries/ranch dressing goes on EVERYTHING wagon. This wagon is delicious, but this wagon is my downfall. Recently, I signed myself up to run a half marathon in March. The training and dedication to eat healthy has been grueling and hard on my body but I set a goal for myself to complete this marathon!
So, now that I have a goal ahead, I started getting my butt back in gear and running on a training schedule. With my crazy work schedule, a 5 year old, family time and blogging, its pretty challenging to fit in a workout! I told myself… NO MORE EXCUSES!!! I'm not focused on losing weight but more about eating better and getting my body ready to get through 13 miles. Since I personally need a kick in the pants and since some of you have requested a workout post, I figured I'd share my top tips on how to fit a workout into your busy schedule and how to actually stick to it.
TIP #1  MAKE A SCHEDULE & COMMIT TO IT
One of the most cited reasons to skip a workout goes something like this: "I am just too busy at work today; I can't make make it to the gym." I call BS! If you unexpectedly had to pick up your child from school and had no back-up plan, how would you deal with the situation? Cancel an internal meeting? Take some work home with you? Do some hard prioritizing? The truth is that when we really need to, we get out of the office at the time that is necessary. Make a schedule, stick to it, and remind yourself that working out is a priority worth keeping. I am a big runner & I love a great 2 mile run! If I skip my run in the morning, I will pack a bag with running gear/headphones and take it to work on the days I plan to pick up Ridge. There is a neighborhood right next to his school that I will get a quick two mile run in before I pick him up two days a week. I HAVE to pack a bag so that I don't have any excuse NOT to run!
TIP #2 CALM BEFORE THE STORM
Mornings can be rough with little ones. As a parent, I find this to be the best time to exercise, though. Pre-plan and prepare breakfast the night before. Wake up 30-minutes early and get a quick 20-30 minute workout done or run the neighborhood! The energy boost you get from exercising and becoming more fit will make-up for the lost 30-minutes of snooze time, plus this allows more time for coffee!!! 🙂
TIP #3  FIT IN SHORT WORKOUTS & MIX IT UP
Ideally, we'd all have time to workout for 90 minutes a day, five days a week. However, let's face it. Ain't. Nobody. Got. Time. If you know you have a super hectic week where you just can't make your favorite 90 minute yoga classes, don't forget that it isn't all or nothing. There are easy 10-20 minute workouts that you can do anywhere.  If you can't schedule those full-blown sweat sessions, still schedule 20 minutes at home where you do a simple circuit of sit-ups, lunges and push-ups, for example. In general, mixing up your workout routine is not only better for your body, but also better for your state of mind.  Personally, I can be a creature of habit and will sometimes end up doing the same workout class for weeks in a row.  However, after a few weeks I'll burn out and all of a sudden feel bored of the routine, and eager to make excuses.  To prevent this, find a group of workouts that you enjoy, rotate them throughout the week, and don't be afraid to periodically throw in a new workout class into your schedule.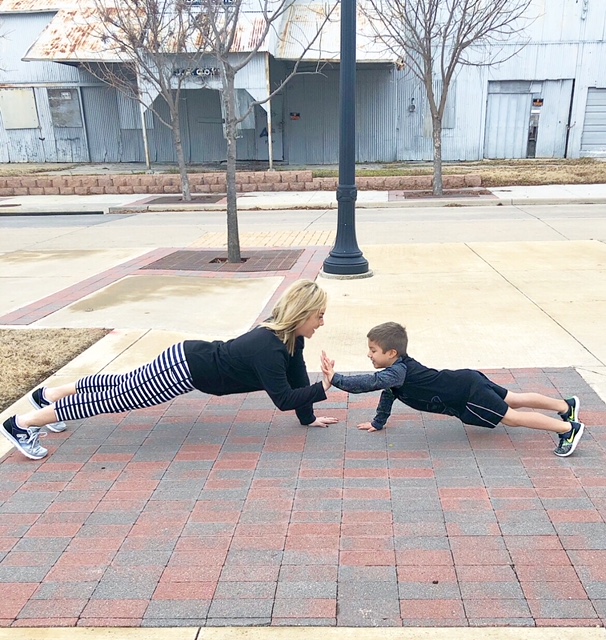 TIP #4 CATER TO YOUR OWN LIKES & DISLIKES
By now you might be thinking, "I hate running!"—and that's okay. We each need to be realistic and to know ourselves. One person's running is another person's yoga, weight training, or dance. Flexing your self-discipline muscles is often necessary when it comes to exercise, but make it easier on yourself by choosing a form of exercise that fits your lifestyle, personality, and taste. Not sure what you love to do? Don't be afraid to experiment with different forms of exercise until you find what works best for you.
TIP #5  GEAR MATTERS
I spent the majority of the first 23 years of my life either at a dance/cheer event or en route to my next event. I was never big on what I used to call "cutesie" workout gear.  Admittedly, I used to roll my eyes a bit at the girls who show up to the gym in head-to-toe pink Lululemon matchy-matchiness.  I was always more of the girl who threw on a pair of old running shorts, a t-shirt and ran out the door.  However, after getting some amazing Nike gear for Christmas a few years ago, I was shocked at the enormous difference they made in my workout and immediately started hoarding them in troves.  For me, I am all about a good hoodie and some breathable leggings! I like to sweat… it makes me feel like I am getting a great workout!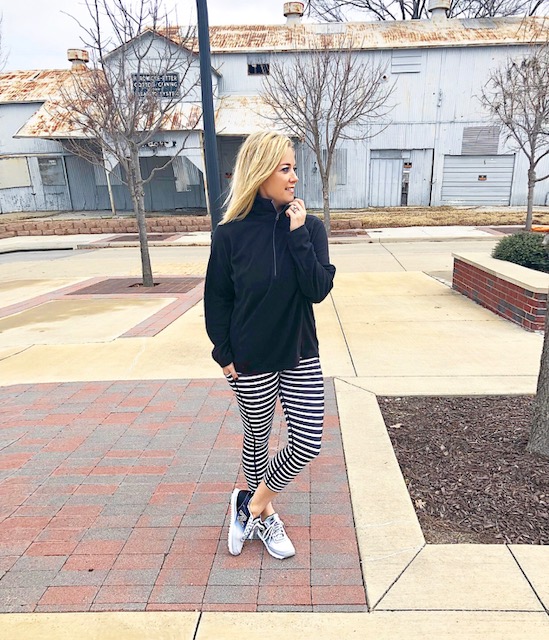 Here are the 5 primary workout types that I do:
1. I've been a runner since I was young, and whether it's on the treadmill or running my neighborhood, this is my cardio of choice.
2. Never skip LEG DAY! But for real, even missing one week of leg day I want to die the next day! I try to do it once a week with weight training and LOTS of squats!
3. I love spinning classes! Spin, Spin, Spin!!! Trust me, you will thank me later!
4. I LOVE Orangetheory anytime of the week.
5. I keep 5-10 pound hand weights at my house so that on days when I don't have time to get to the gym, I'm able to do some lunges, sit ups, and simple weight training at home on a yoga mat. My 5 yr old son loves joining in on the fun 🙂
What are some workout tips you stick to that keep you motivated?
Link Ups:     Shoe and Tell!  #iwillwearwhatilike link up! Hello Monday! Mix It Monday! Creative Mondays!  A Lovely A La Mode Link Up! Sincerely Jenna Marie!, Glass of Glam  Turning Heads Tuesday! Confident Tuesday! Tuesday Fashion Party On Trend Tuesday! , Trend Spin Linkup,  I Feel Pretty Link Up,  Oh, Hey Girl Link Up, Jersey Girl, Texan Heart Link Up, Fashion Frenzy Link Up,  Trendy Wednesday! Style on the Daily! What I Wore! Thursday Fashion Files!   Thursday Moda! Passion for Fashion! Fabulous Friday!  Fab Favorites!  Flashback Fashion Fridays! Weekend Wear Link Up!  Friday Favorites,  High Five for Friday Weekend Wear Link Up, Friday Favorites with Lizzie in Lace,Fun Fashion Friday Link Up , Twenties Girl Style,  Stylin in St. Louis, Living in Color, Fashion Friday,  Daily Style Finds, East Coast Chic