It's almost Friday!!! And a short work week WHOOP WHOOP! We had a great, long holiday weekend but I totally needed another day to recover! I am drowning in laundry and our house is a disaster! But it was totally worth it!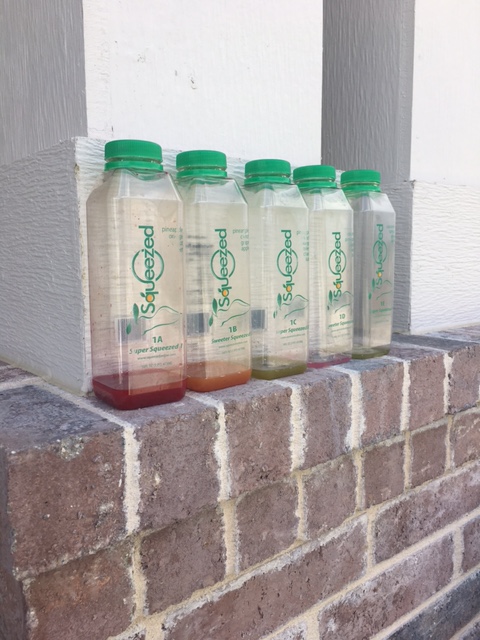 It has been almost two weeks since I completed a 5-day juice detox and I still feel amazing! Squeezed Online provides a wide variety of juices that contain fruits and veggies without any of the extra additives or preservatives. They also deliver the juices right to your front door. SOLD! I learned so much about food, eating habits, caffeine, digestion and how its good to give your body a reset. Oh yea and how to drop a couple pounds along the way 🙂  Now, I wont lie it wasn't a walk in the park and took A LOT of discipline. I like my coffee, Taco Tuesday's, glass of wine and FOOD but none of these were allowed on this specific detox. I wanted to rid my body of toxins and just kind of start over. I also was having some stomach issues that came out of nowhere and a cleanse was just what I needed. It was all mental because obviously I am still living and breathing.  As you may guess, juice fasting takes preparation, time and an investment. You gotta be committed or it won't work and there is no such thing as cheating on a fast, as there is on diets. You either do it all the way or you don't. 🙂
Order & Delivery
The website is really easy to navigate and user friendly. Each juice program is thoroughly explained and you can pick which detox you would like based off what you are looking for. Once you place your order, you have the option for it to be delivered or if you're local you can pick it up. Since they are fresh juices, all deliveries arrive by 6am the next day! They are packed and sealed in a cold, insulated bag to keep them fresh. This totally blew my mind!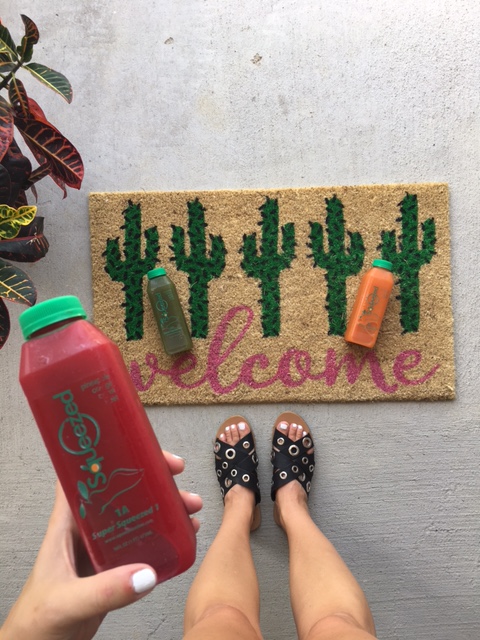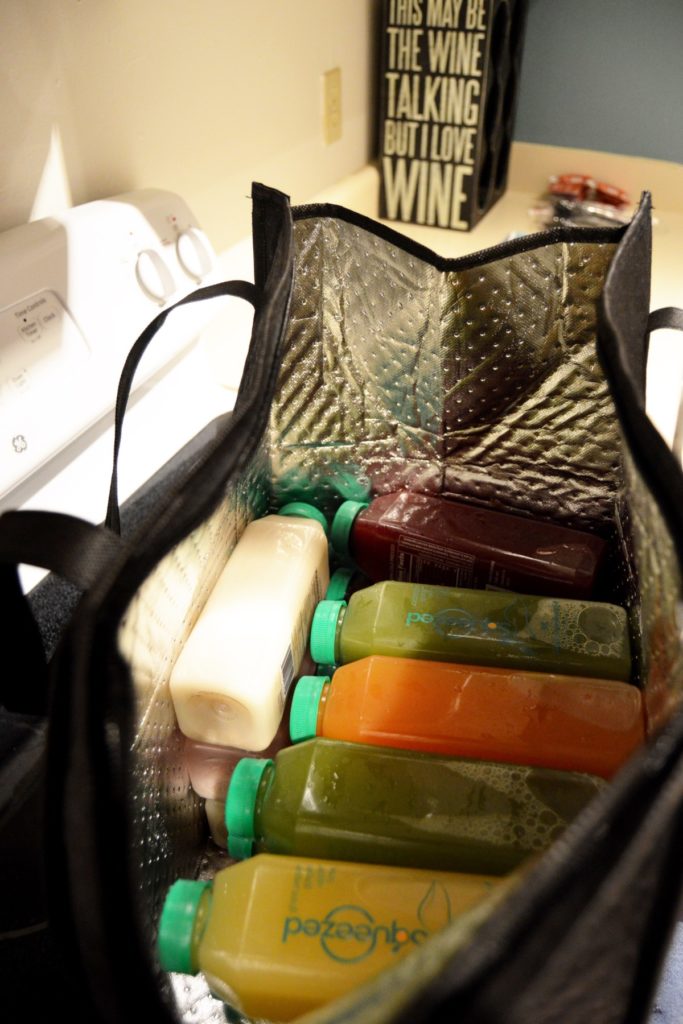 The Juices
I did the Super Squeezed 5 Day Detox and the company offers 23 different combinations of cold pressed juice. Each day on the detox included 3 meal juices and 2 snack juices.  They also send different kinds of cashew milk for the end of the day if you are working out intensely or have a fear that you will be hungry.
Here is what Day 1 looks like for everyone….
1. Super Squeezed 1 (pineapple, orange, carrot, beet)
2.Sweeter Squeezed 5 (pineapple, carrot, grape, apple)
3.Super Squeezed 8 (pineapple, spinach, orange, celery, chard, kale)
4.Sweeter 2 (coconut, pineapple, apple, beet, lime)
5.Super Squeezed 3 (cucumber, spinach, grape, apple, kale)
Optional – Cashew Milk (cashews, filtered water, cinnamon, vanilla beans, dates)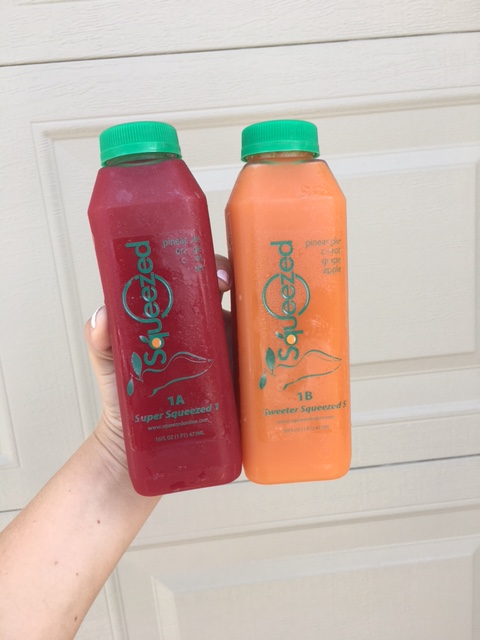 The Cleanse
Depending on how many days you decide to cleanse, you will need to be close to a restroom. Preferably, at home! I worked from home the whole five days I did the cleanse and I am glad I did. You are ridding the toxins from your body and clearing out your digestive tract. This is not the most enjoyable part but it's part of the process. You are not supposed to eat any other food, drink coffee or alcohol and it is recommended to not take any medications other than natural remedies. Obviously, listen to your body and if you need some nutrition then eat but to get the full experience of the cleanse, I chose to stay away from all of this. Once you get past the hunger pains and cravings, you start to actually enjoy the juices.
Day 2 was probably the hardest because my body was adjusting to not drinking coffee, and I drink A LOT of coffee. I had a headache both Day 1 and 2 but I drank lots of water to help relive the pain. But other than that I felt GREAT and felt that I had a lot of energy from the afternoon of day 2 all the way to day 5. Sometimes it was hard to even get to sleep from all the extra energy but once I did, I slept so great!
I did work out while on my cleanse but it wasn't my normal weekly exercise routine. Running was a little tougher than I thought so I just shortened my runs. The cashew milk is definitely recommended if you plan to work out during the cleanse because it is higher in calories, has protein and helps fuel/replenish/sustain your body! And be forewarned… they taste like milkshakes after having nothing but juice. Delicious!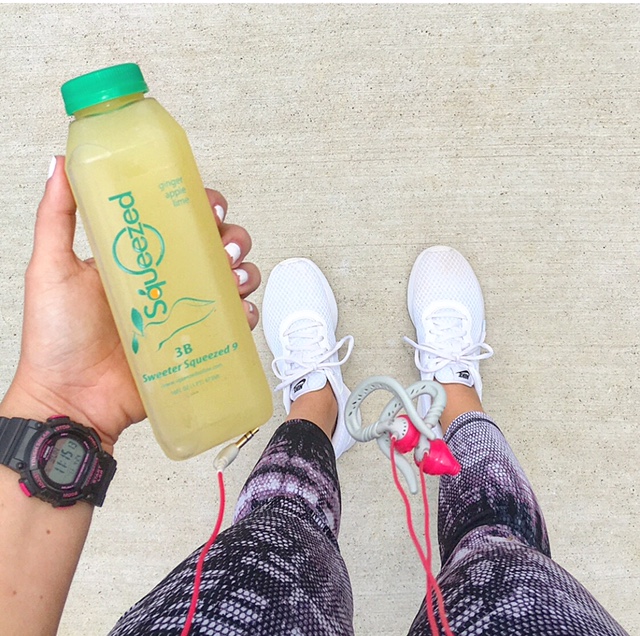 Like I mentioned before, this was one of the hardest things I've done, EVER, but it's totally possible! And the best part of the whole cleanse… I lost 6 pounds!!!
What I learned:
I discovered just how much "junk" food I actually do eat and with this awareness, I have started to eat less junk food and eat more nutritious, vibrant foods.
The body uses up so much energy to digest and clear out the "junk" food we eat and when we stop eating all the bad food, our body has so much more energy for us.
I also learned how much grazing I really do!
My skin felt softer and clearer – and I look even younger.
I can honestly say that I do not NEED coffee every single day. Do I crave it? Yes! Does it help start my day? Yes! But I know I can live without it.
With a lot of discipline and determination, a juice cleanse could be knocking on your door!
Overall, I would like to do something like this once every 3-4 months. It was a great way to reset my body and to cleanse. If you are interested in trying Squeezed Online, use promo code sequins10 at checkout for 10% off your order.
Have you ever done a juice cleanse? What do you like to do to reset your body?
Brittany 🙂
Disclosure: This post was sponsored by Squeezed Online. All opinions are my own. Thank you for supporting KingdomofSequins' sponsors as they help make my blog possible!