Happy Monday Friends!!! I am starting out the week with an exciting product review of something I have been wanting to try for a while — Smile Brilliant Teeth Whitening Kit!!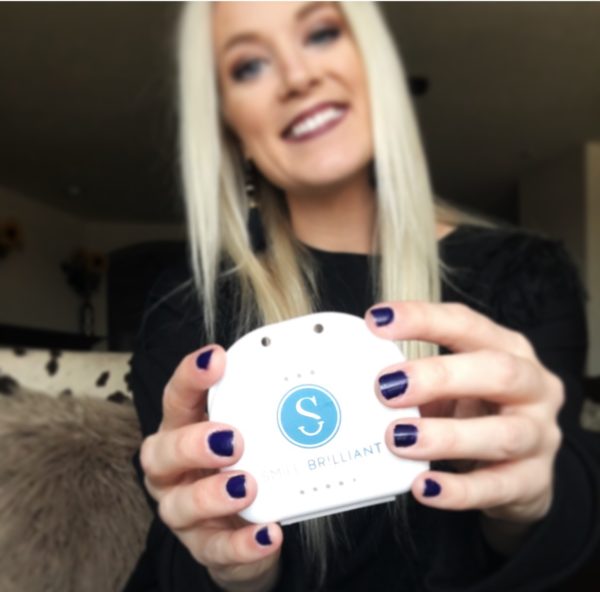 Have you tried at home whitening kits with custom trays? Crest white stripes, whitening mouth wash and UV light have never worked for me. I have always wanted to try professional teeth whitening, but I could never get myself to pay the insane amount that it costs (usually around $650-ouch!) So, I was super excited to give in home trays a try since I have always heard good things about them. Smile Brilliant is an amazing company that shows instant and long term teeth whitening results. What I love about Smile Brilliant is that unlike other teeth whitening kits, Smile Brilliant gives you the ability to create your own custom impressions at home, send them to their specialists + bam, you have your own custom fit teeth whitening trays to help you get your best smile. In this blog post, I wanted to break down a step by step run through of what all is included in the kit, how much it costs, and what actual results look like!
The Smile Brilliant kit was really well packaged and labeled! There were super clear instructions explaining the purpose of each item in the kit, how to use them, and how to prep for the next step of the process.
Making the putty for the impressions was super simple. By mixing together a base paste and a catalyst paste and filling up the trays, it literally only took two minutes to take the impression.
I repeated the same steps to make a second batch of putty for the bottom tray, and voila! The whole process of reading through the instructions, creating the putties, and making the impressions took about 10 minutes. I let the impressions dry overnight and then packaged them up in the prepaid bubble envelope provided by Smile Brilliant to have the trays made.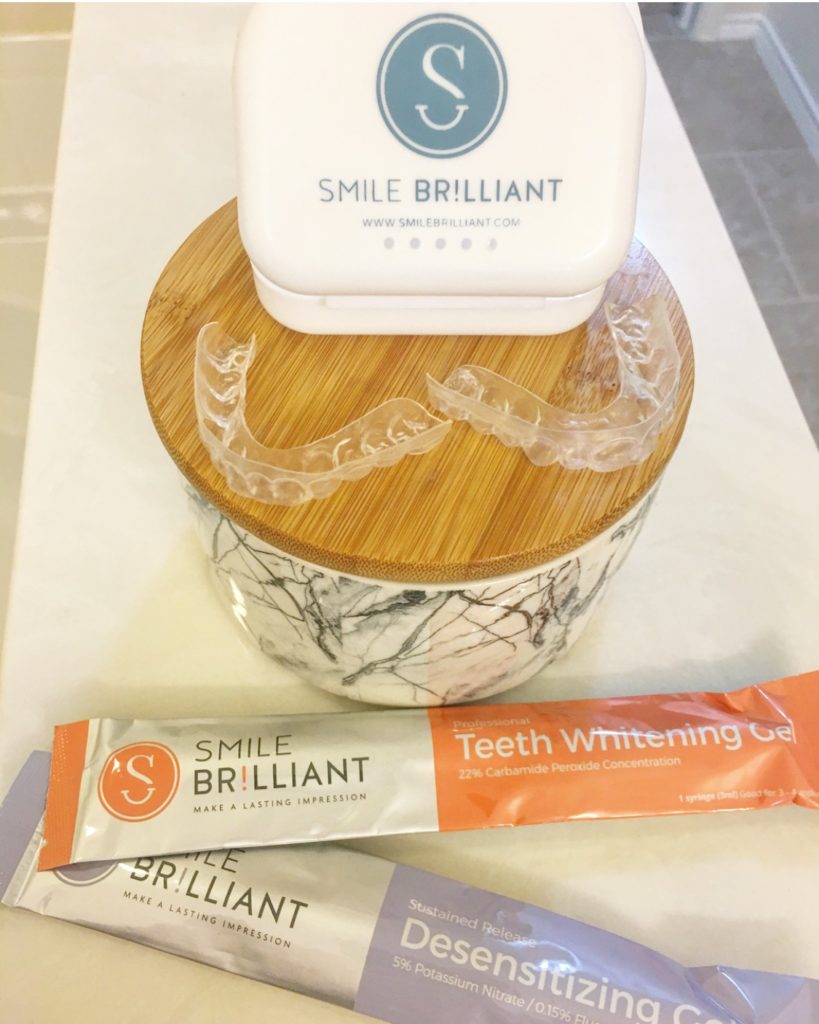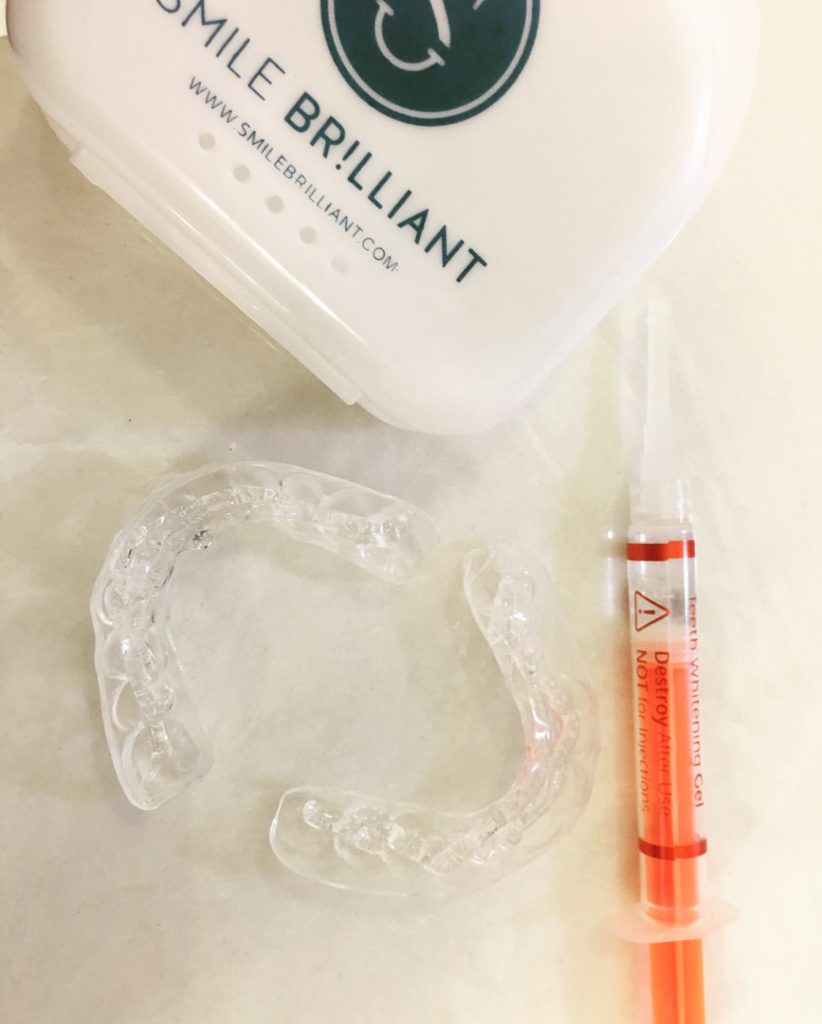 I received my trays back within a week and they fit perfectly. The kit comes with a number of tubes of whitening gel, which you squeeze into the trays and leave on for as long as you wish. On my first time, I left the gel on for around 1 hour – there was a slight tingling, but it wasn't at all painful. They do provide Desentizing Gel for senstive gums/teeth that you apply after the whitening process. I did not use it as my teeth didn't bother me. The whitening process itself is even easier than making the impressions. I actually only whitened my bottom teeth about four times and used the rest of the gel for the top.
I'm so happy with my results. After just several weeks, my teeth are noticeably whiter. Any yellow staining is gone, and my teeth are back to sparkling white! The best part about the process is I'm able to keep whitening or to touch up whenever necessary.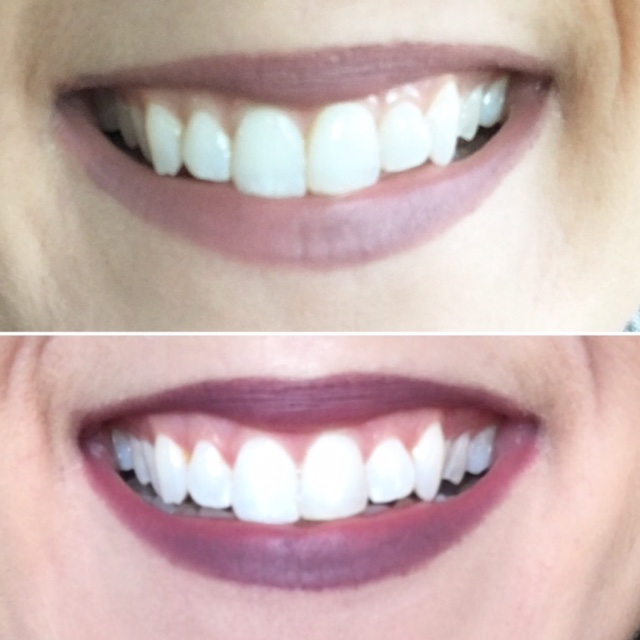 This is my before and after!! I'm so impressed with this system!!!
Learn more about Smile Brilliant + try it today! PLUS you can enter their GIVEAWAY where you have the chance to WIN your own customized teeth whitening kit — HERE!
PLUS, they have a money back guarantee so if it doesn't work for you, don't fret Smile Brilliant has got your back!
5% discount with code "kingdomofsequins5"
*all opinions my own
Here 
is a SUPER informative video that is helpful if you still have a couple questions about the process 🙂
*Thank you Smile Brilliant for sponsoring this post!
Brittany 🙂