Happy Monday Friends!
I hope everyone had an awesome weekend. Ours was pretty exhausting and really hott! 🙂 We had parents night out Friday night and got to see my favorite country music singer, Pat Green. I live for this past weekend every single year because its always such a blast. However, I can't recover like I used to! (insert monkey covering eyes emoji) We had another fun-filled Saturday at the pool and riding 4 wheelers out in the country. I need another day of rest but that's not how we operate.
I wanted to share this pink top that I recently purchased from Prime Day a couple weeks ago. The color is totally my jam! The brighter, the better 🙂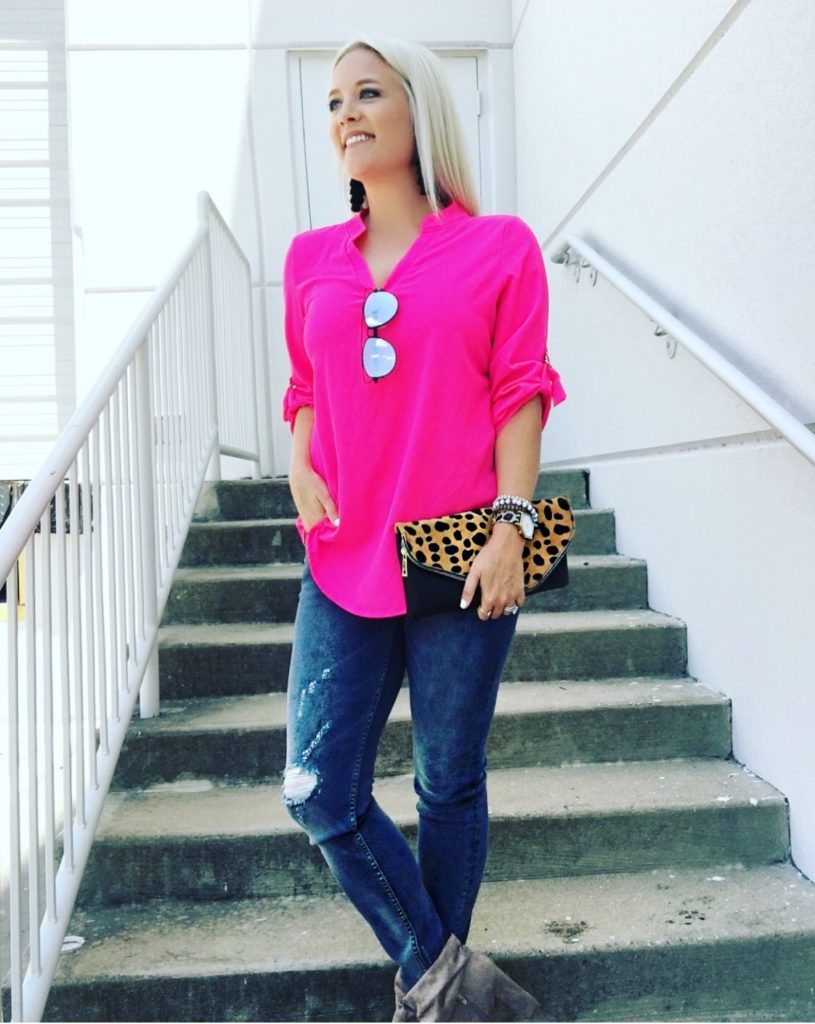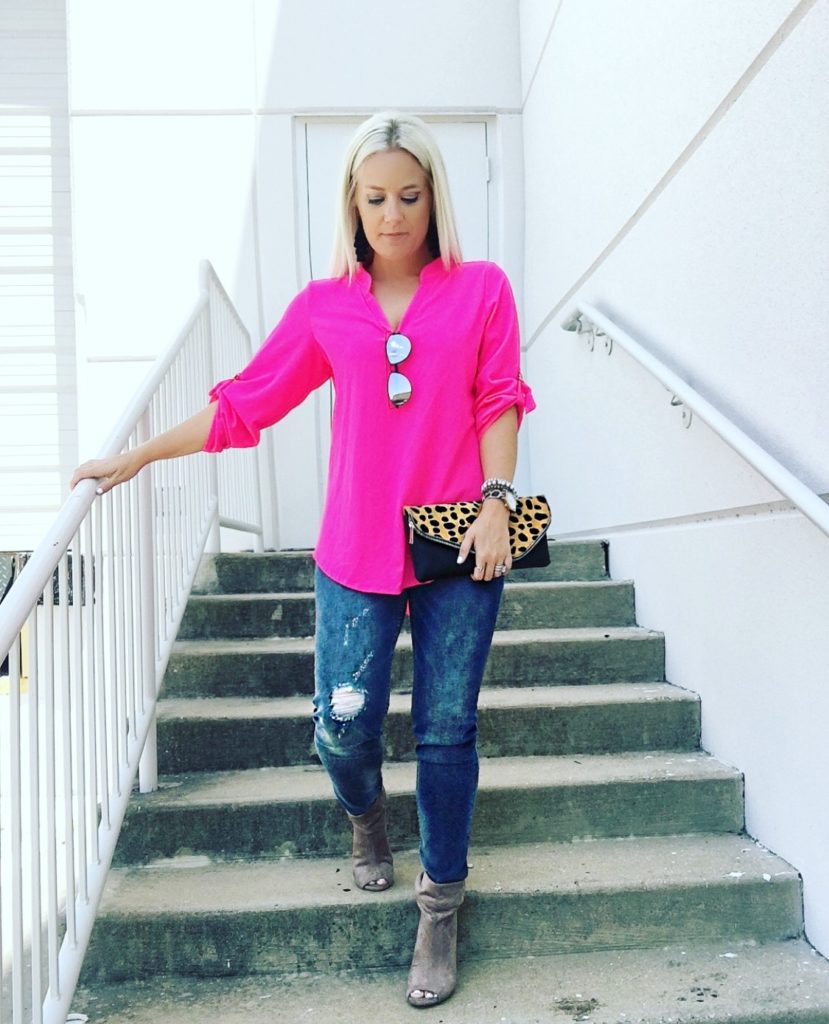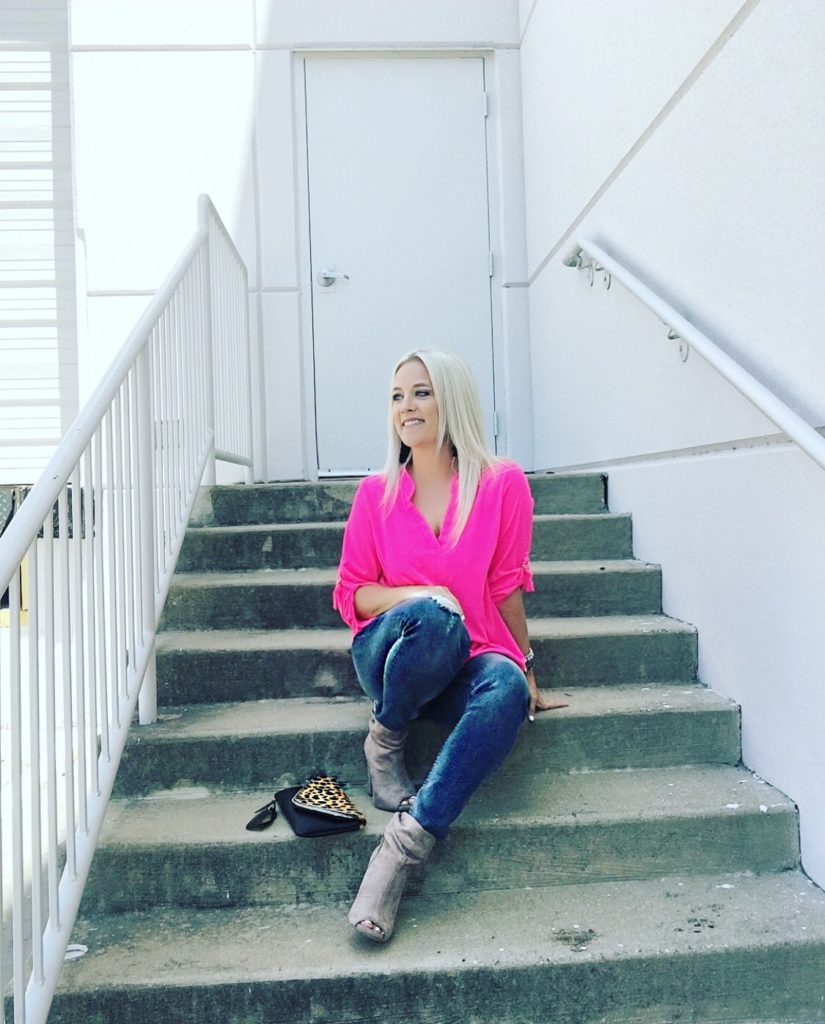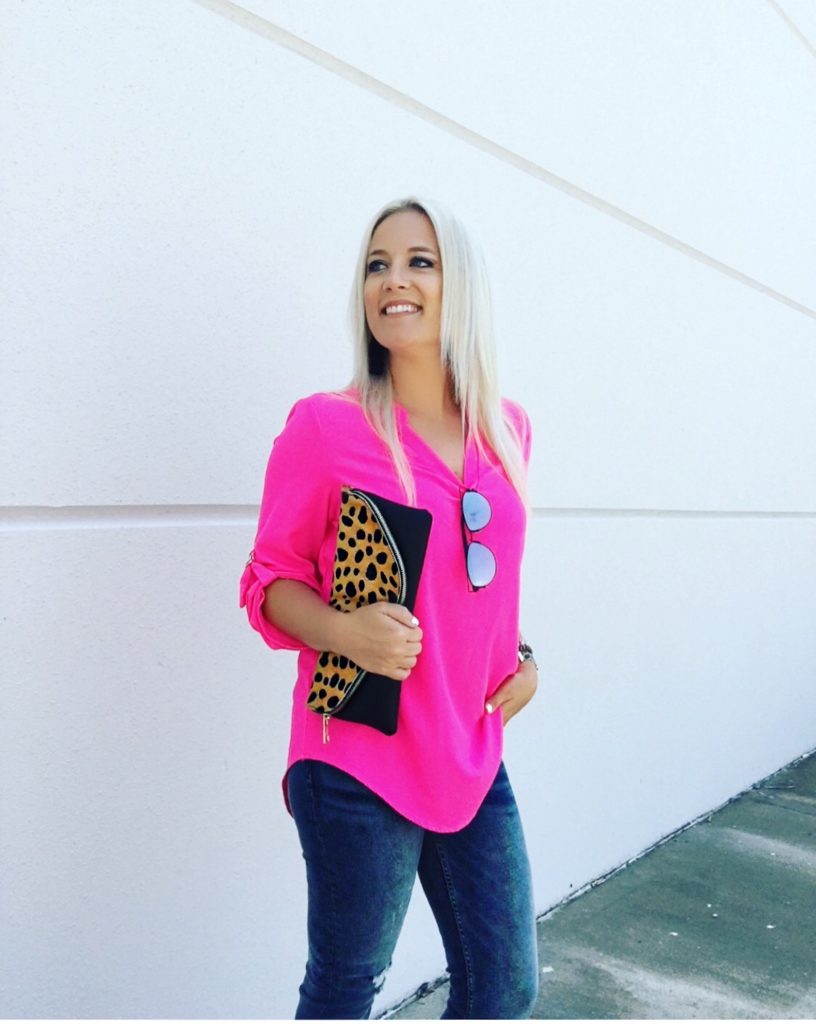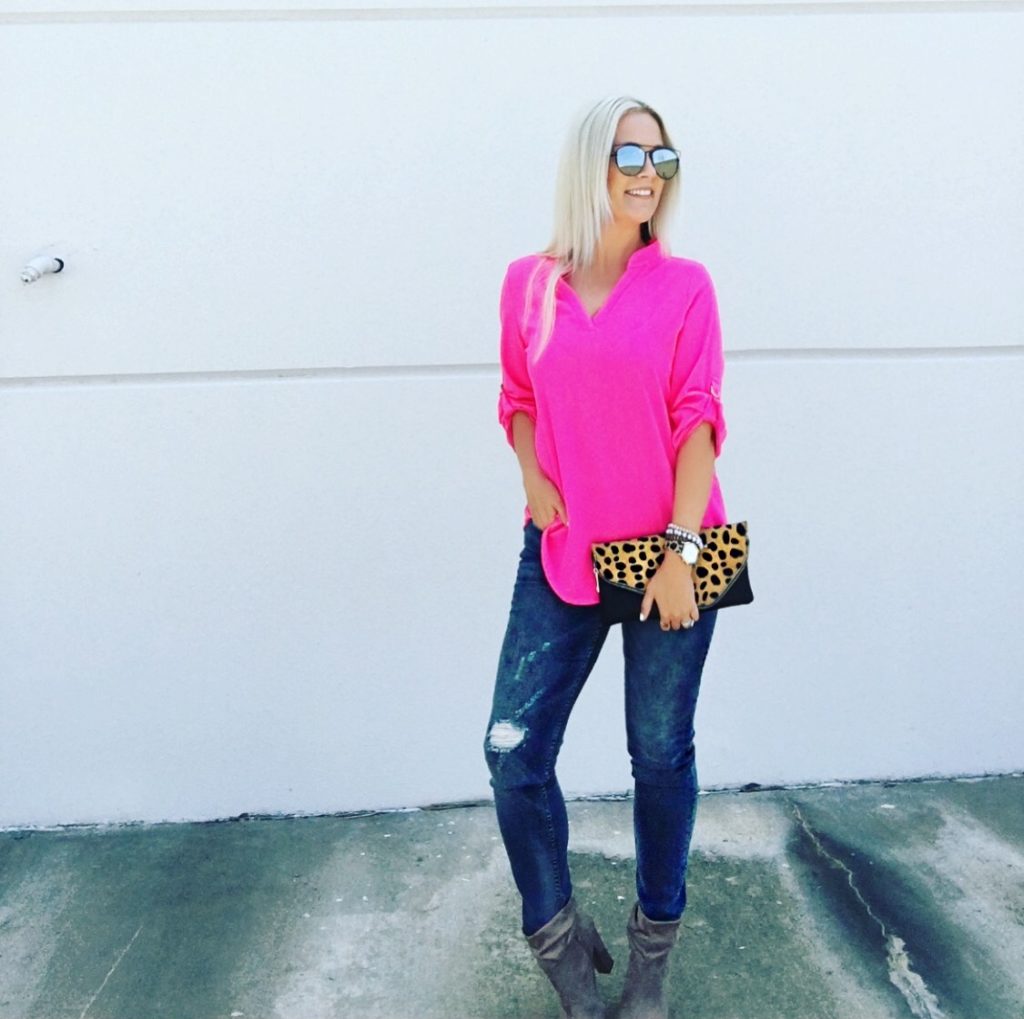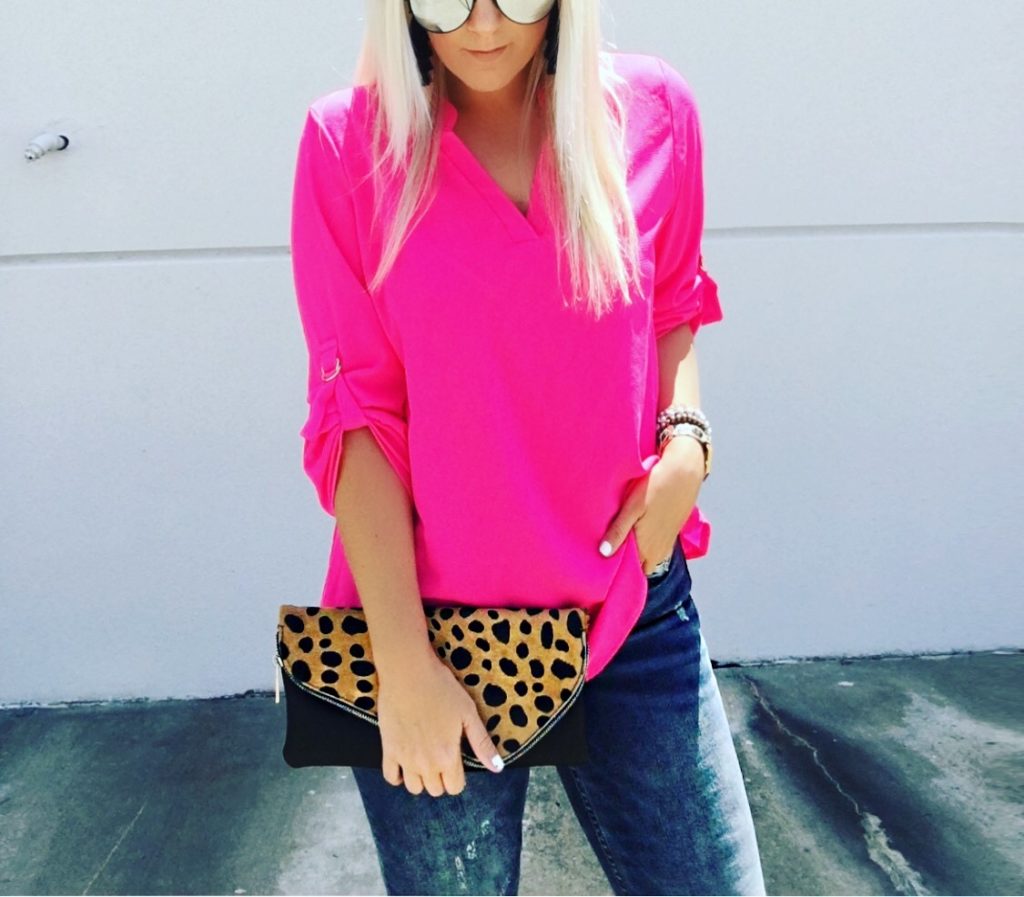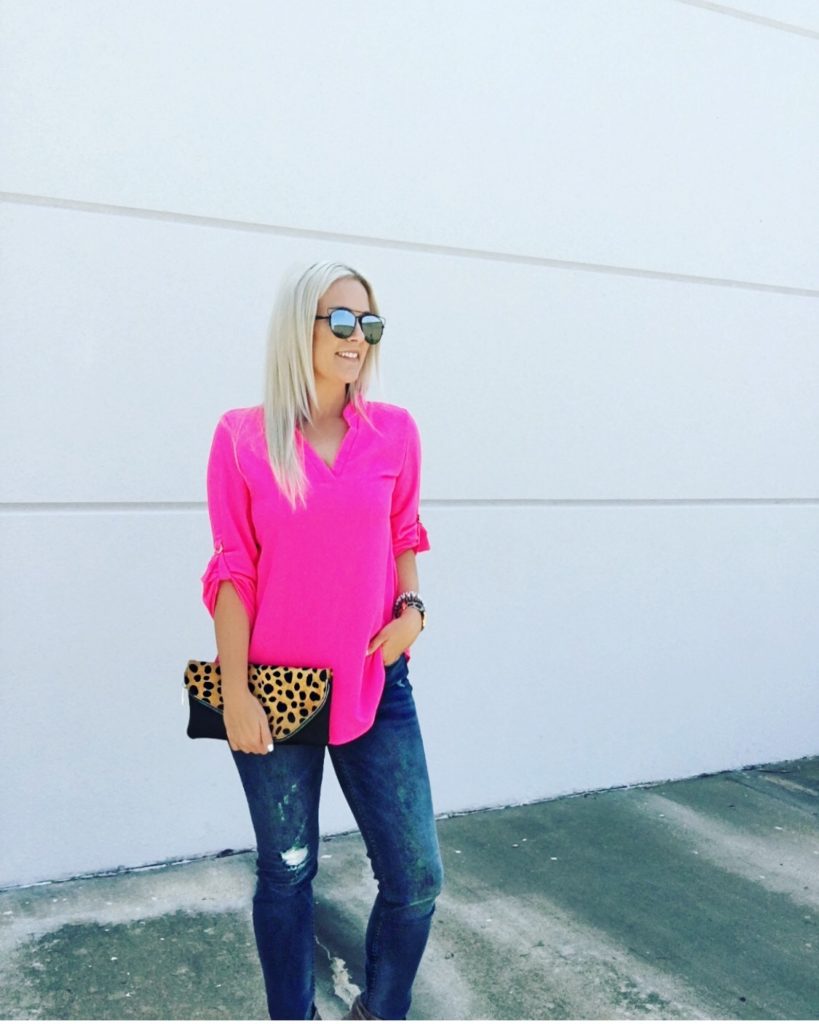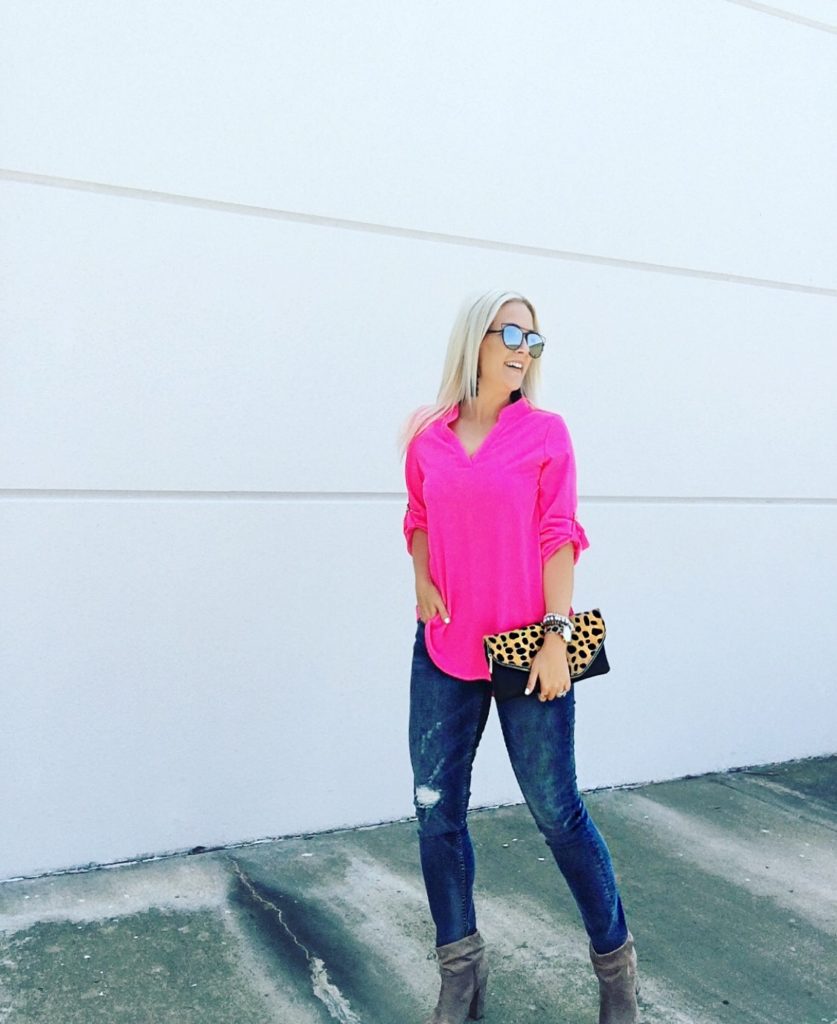 I really dont think there could be a better color for summer. This top is also really flattering and comes in eight other colors. Its versatility is bananas since it can be worn with literally anything. I cant wait to style this with shorts and a cardigan to transition into fall. These jeans were a purchase from the #NSALE and I was iffy at first on the fit. Now that I have worn them a couple times, I am so glad I didnt return them. I am a shorty so most jeans/pants are always pretty long on me. These suck everything in which totally dismisses the fact that they come up past my belly button 🙂  And can we talk about these booties.. O.M.G!!! I found them from the Rack and under $50!! They are similar to the Chinese Laundry Laurel Pep Toe but half the price! Of course I had to finish this look off with probably my most favorite purchase from the Anniversary Sale…. this leopard print clutch! OBSESSED!!!!
Have a great week!
Brittany 🙂
SHOP THE POST:
Link Ups:     Shoe and Tell!  #iwillwearwhatilike link up! Hello Monday! Mix It Monday! How I Summer! Creative Mondays!  A Lovely A La Mode Link Up! Sincerely Jenna Marie! BLoved Boston , Trendy & Tidy , Turning Heads Tuesday! Confident Tuesday! Tuesday Fashion Party On Trend Tuesday! , Trend Spin Linkup,  I Feel Pretty Link Up,  What I Wore Wednesday w/ Tucker Up, Oh, Hey Girl Link Up, Jersey Girl, Texan Heart Link Up, Fashion Frenzy Link Up,  Trendy Wednesday! Style on the Daily! What I Wore! Thursday Fashion Files!   Thursday Moda! Passion for Fashion! Fabulous Friday!  Fab Favorites!  Flashback Fashion Fridays! Weekend Wear Link Up!  Ladies Who Link Up!,  Friday Favorites, Friday Favorites with Meet @ The Barre ,  High Five for Friday Weekend Wear Link Up, Flashback Fashion Friday Link Up, Friday Favorites with Lizzie in Lace,Fun Fashion Friday Link Up , Twenties Girl Style,  Stylin in St. Louis, Living in Color, Fashion Friday,  Daily Style Finds, East Coast Chic