How is it already the last week of August?!?!
With that being said, I cant help but crave all things FALL! I am more of a "chilly morning, crisp air, hot latte, oversized sweater, cozy booties" kind of gal. I tried really hard to love this summer weather but when you live in straight 100 degree humidity, its hard to not crave cooler weather! And if I am being really honest, I actually decorated the house with all the fall decor and might have played Christmas music while putting it out! #sorrynotsorry
But I did want to send prayers to those affected by Hurricane Harvey. Watching the coverage on tv has been so heart breaking seeing neighborhoods and businesses under water. I can not even imagine what these people are going through. I have friends in the Houston area that are all ok and not affected by the flooding but I do continue sending prayers for everyone to stay safe.
Today's post is all about an easy transition outfit from summer to fall.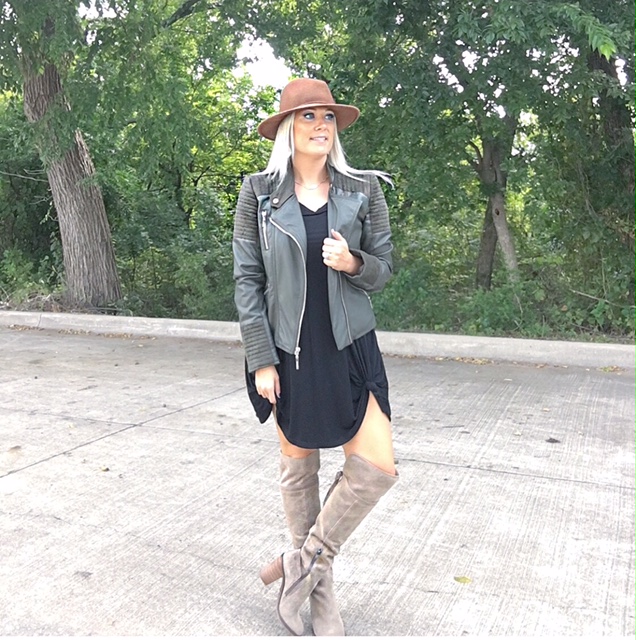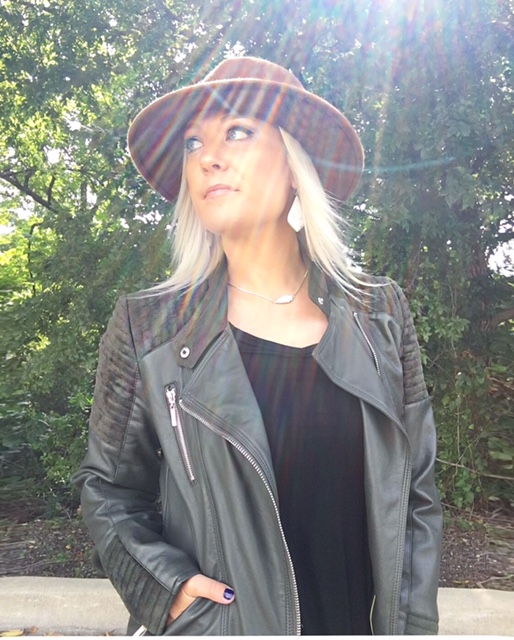 \\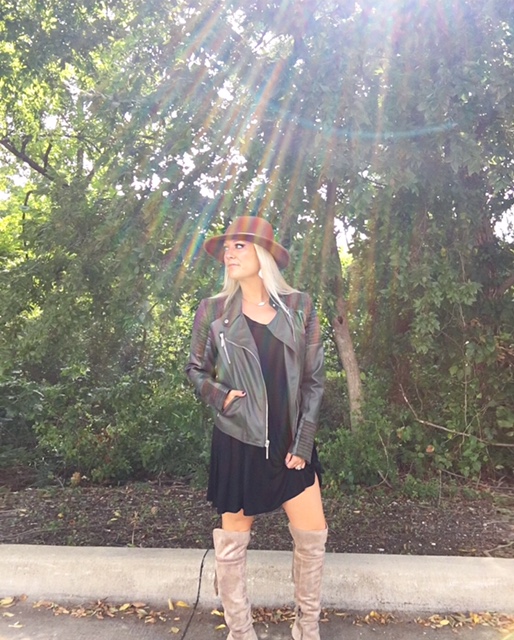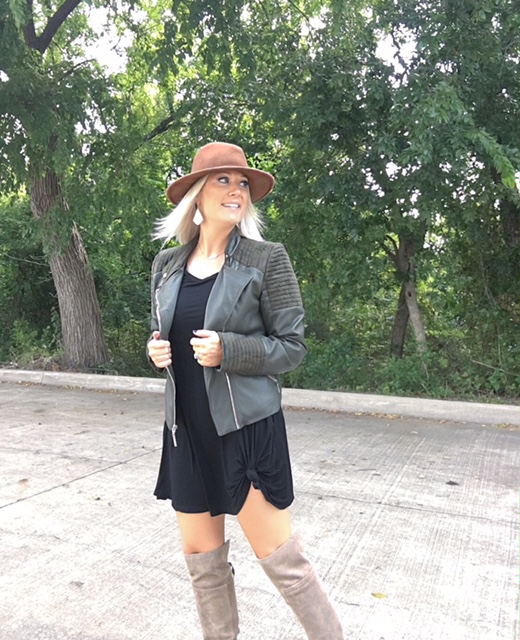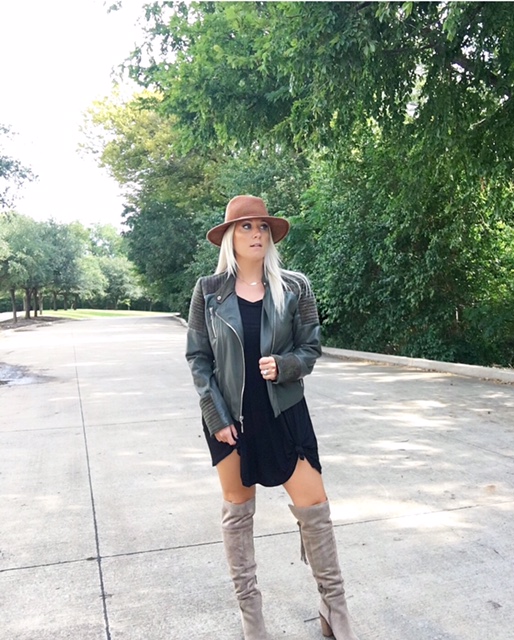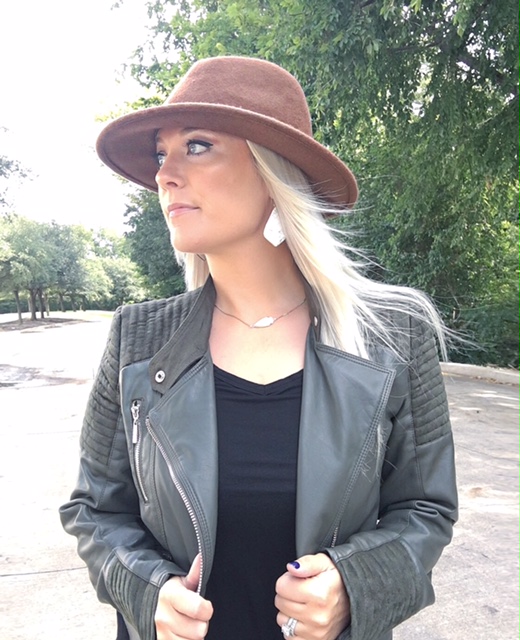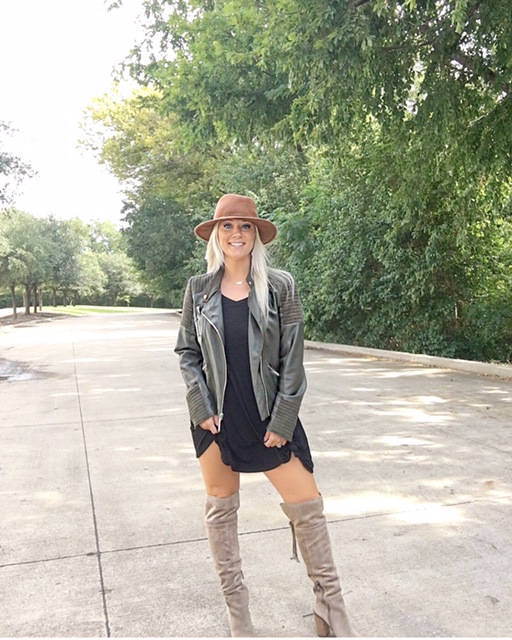 When the cooler weather doesn't really start arriving until October, lighter pieces are necessary. This swing dress is seriously the comfiest and so versatile. It also comes in 10 colors. I paired it with one of my favorite jackets for fall. I die for the olive color of this moto jacket. It will be on repeat for fall. And I know y'all might be tired of seeing these over-the-knee boots but they are THAT good! The color and fit are so perfect! I completed the look with this great fedora hat that totally screams "give me a pumpkin spice latte"…. The color is gorgeous!
Stay tuned to more fall inspiration coming to the blog soon!
What are you excited most about for fall?
Link Ups:     Shoe and Tell!  #iwillwearwhatilike link up! Hello Monday! Mix It Monday! How I Summer! Creative Mondays!  A Lovely A La Mode Link Up! Sincerely Jenna Marie! BLoved Boston , Trendy & Tidy , Turning Heads Tuesday! Confident Tuesday! Tuesday Fashion Party On Trend Tuesday! , Trend Spin Linkup,  I Feel Pretty Link Up,  What I Wore Wednesday w/ Tucker Up, Oh, Hey Girl Link Up, Jersey Girl, Texan Heart Link Up, Fashion Frenzy Link Up,  Trendy Wednesday! Style on the Daily! What I Wore! Thursday Fashion Files!   Thursday Moda! Passion for Fashion! Fabulous Friday!  Fab Favorites!  Flashback Fashion Fridays! Weekend Wear Link Up!  Ladies Who Link Up!,  Friday Favorites, Friday Favorites with Meet @ The Barre ,  High Five for Friday Weekend Wear Link Up, Flashback Fashion Friday Link Up, Friday Favorites with Lizzie in Lace,Fun Fashion Friday Link Up , Twenties Girl Style,  Stylin in St. Louis, Living in Color, Fashion Friday,  Daily Style Finds, East Coast Chic
SHOP THE POST: