Happy Wednesday!
Today's post is a little short and sweet… I have a viral infection which feels like strep. Trying to takes meds and rest as much as possible because this thing aint no joke!!! Ugh! My son graduated from Pre-K last night and I was slightly a hot mess but I definitely played it off like a champ. When I started to tear up, I would run over to the other side of the room like I was going to take a picture… while wiping tears at the same time. 🙂
Speaking of graduation, I wanted to share some gift ideas for the special grad in your life! I have two cousins BOTH graduating this year and they are completely different. I had to come up with some ideas that I know they both would like which wasnt easy. Here are some quick and simple things to make your gift hunting easier….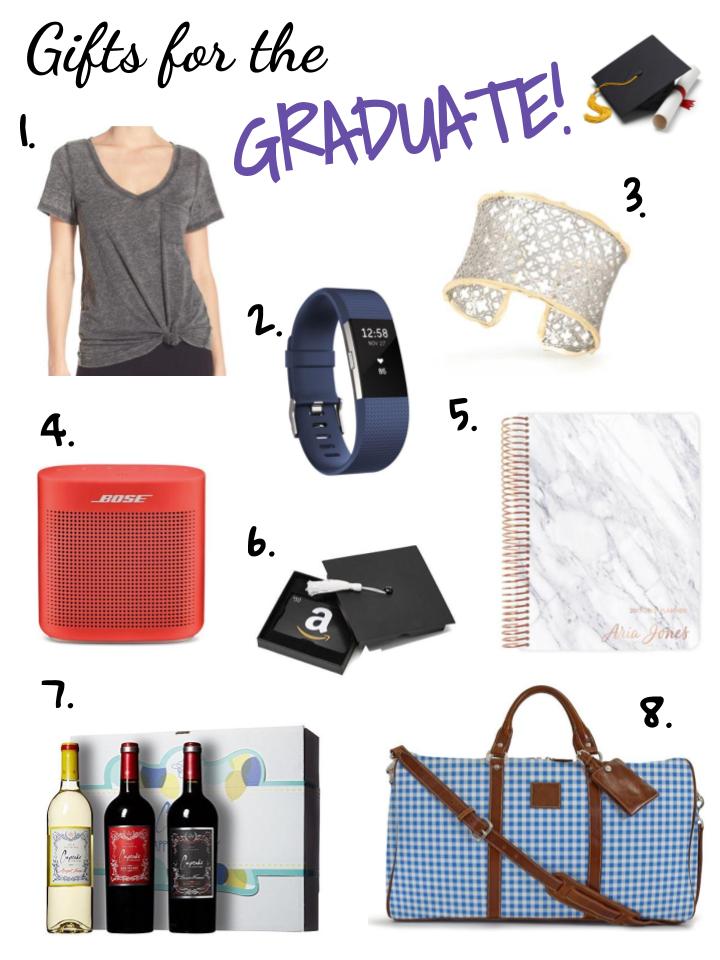 1. V-Neck Tee :  These are the best shirts and I have them in 3 different colors! I wear them to bed, to the store, Saturday tee-ball games and literally everywhere! They would make amazing gifts. And under $30!
2. Wireless Activity Tracker:  This sleek, sporty wristband motivates you to achieve your fitness goals by calculating steps taken, calories burned, elevation climbed and distance traveled throughout the day. It literally does it all! Records workouts, shows real-time stats on screen, count hours of sleep and wakes you up in the morning!
3. Cuff Bracelet:  This statement bracelet is gorgeous and can be dressed up or down. Any fabulous female would love this as a gift. The filigree design looks amazing with the mixed metals!
4. Portable Bluetooth Speaker:   This portable speaker is great for summer time with all the fun pool parties and bbq nights. Its water resistant and will pair with bluetooth to make it wireless. Perfect for any occasion.
5. Personlized Planner:  The thing I love about this planner is it can be customized for anyone. Not only does it have a marble case but it has different tabs for staying organized. And its under  $40!
6. Amazon Gift Card:  To be honest, I think every graduate wants one thing… money! I am not one to just give a card with money and be done! I have to do something a little more thoughtful so gift cards are always a great idea. And I am pretty sure you can find any and everything on Amazon!
7. Graduation Wine Set:  Who doesnt love some wine?!? Give them something they can enjoy x 3!!  They can be customized for any holiday or event!
8. Barrington Duffel Bag: This is such a classy and sophisticated bag that is perfect for travel. These can also be personalized and customized with great prints and a monogram!
What are some exciting events you have coming up in May?
Brittany 🙂
Linked Up With: Style Me Wednesday Link Party , What I Wore Link Party, Trend Spin Linkup,  I Feel Pretty Link Up, Trendy Wednesday Link Up, What I Wore Wednesday w/ Tucker Up, Oh, Hey Girl Link Up, Jersey Girl, Texan Heart Link Up, Fashion Frenzy Link Up {and click here}