Happy Monday babes!
That was probably the quickest weekend so far this year for us. Busy Saturday full of birthday parties and basketball all while trying to car shop! (Stay tuned tomorrow, I might be getting my dream car) And of course Sunday was packed with brunchin, shoppin, football watchin and running errands! But definitely got a lot of much needed projects finished! 🙂
As we slowly bid farewell to summer, although it doesn't really feel like it in the south, I am trying to get my wardrobe fall ready! My closet is a little jumbled right now; I've started moving in fall pieces, but I'm not quite ready to send my sandals packing just yet. I recently found this striped maxi dress that is perfect for these in-between-season days. I love the fit and short sleeves and it really is flattering; in fact, I have it in black also! Oh yea… it has pockets!!!! 🙂
In my opinion, stripes are considered a neutral and they are super versatile. Below are three outfits that can help you bridge the gap into the tricky "fall" months.
1. Camo Vest & Stripes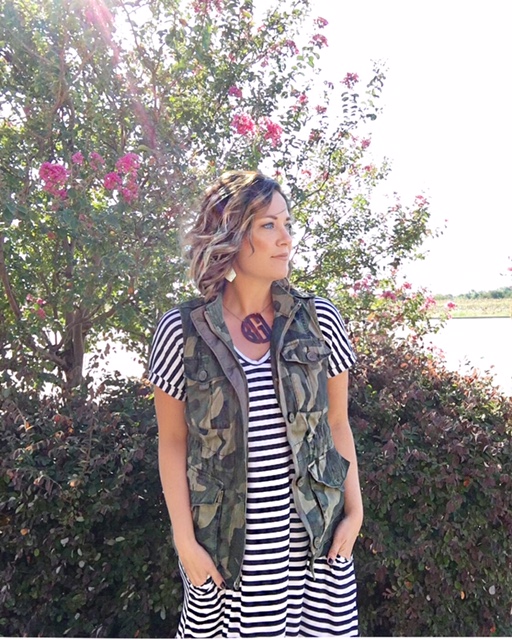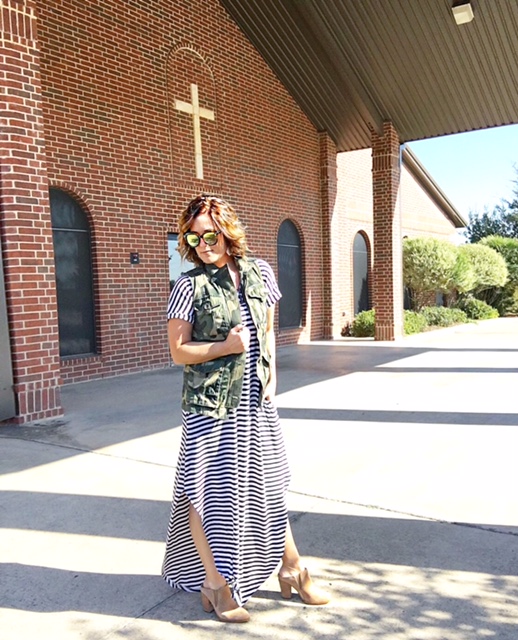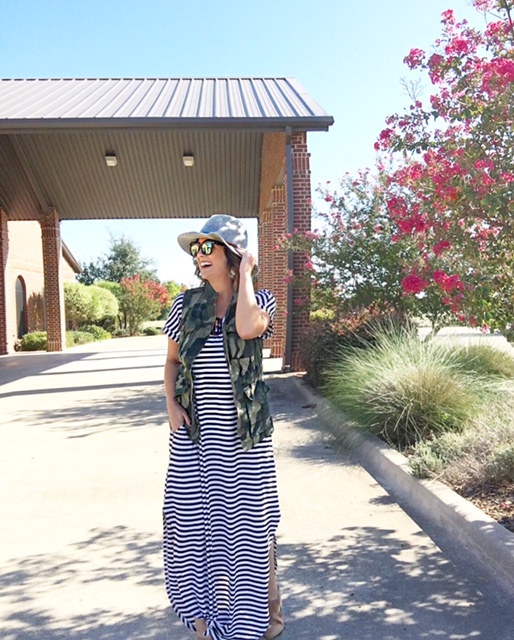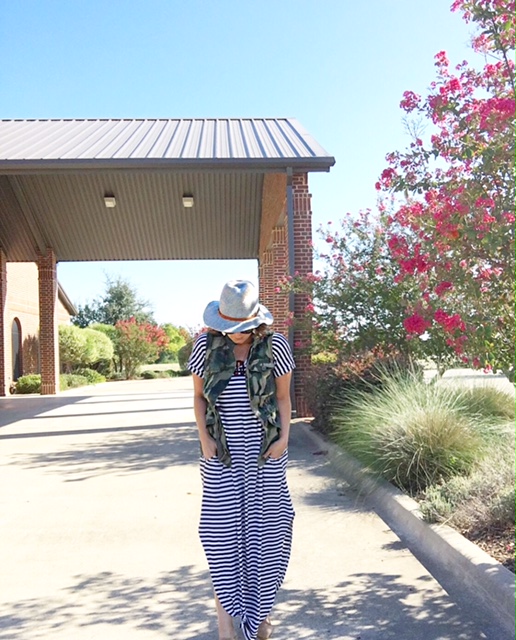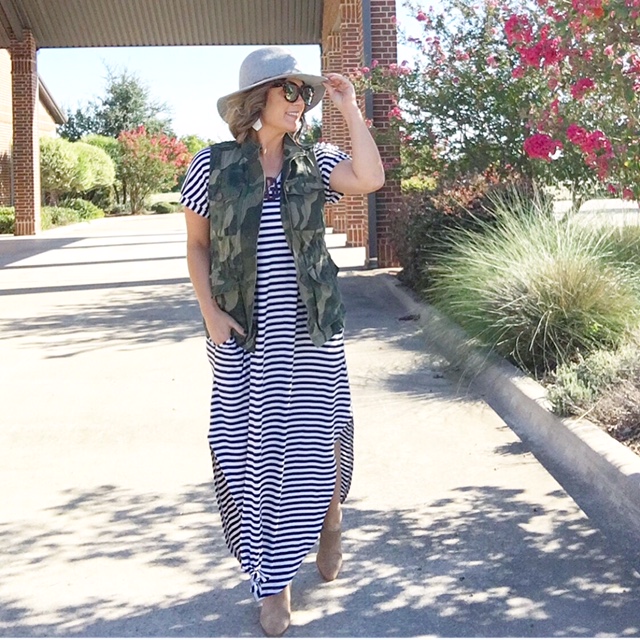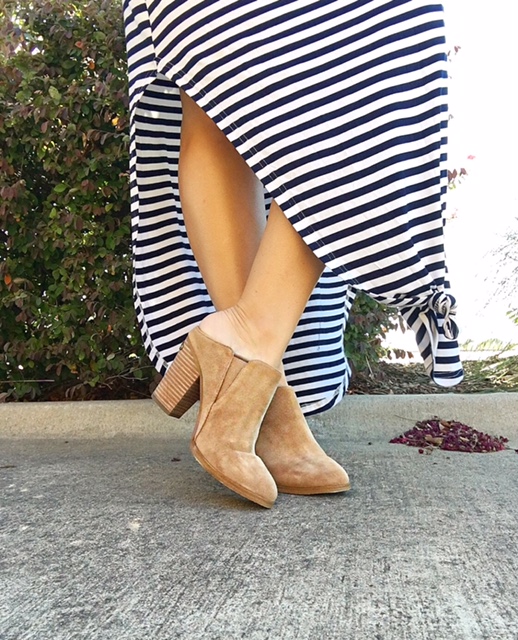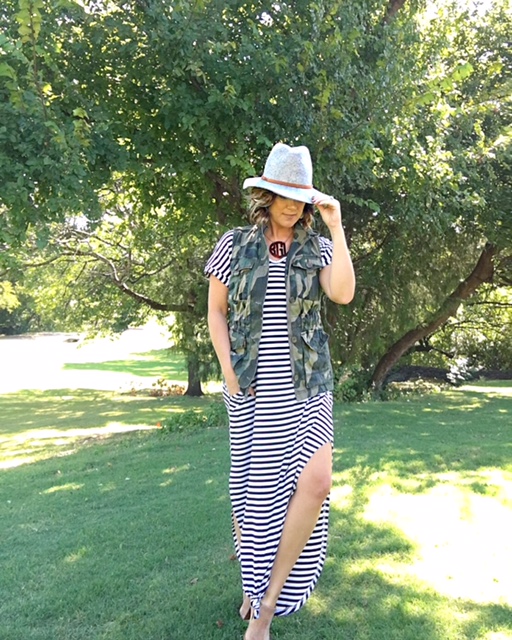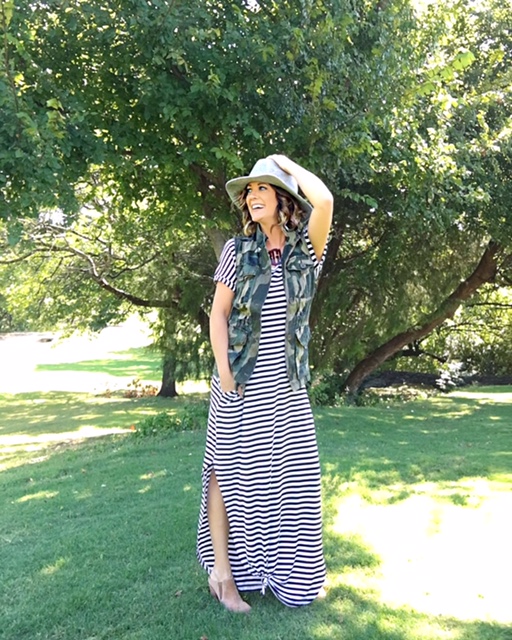 Pattern mixing is literally my favorite part of fall fashion. Camo + stripes is one of my favorite combos. This camo vest can literally be worn with anything but stripes is probably my favorite to pair it with. Whether buttoned up or open, it is the perfect vest for fall. Over the years, I've built quite the camo collection in my closet, mostly including soft tees and heavier jackets, so I was super excited when I found this bad boy. It's the perfect thickness for those of us who live in the south and still want to layer for fall. Of course if you live in cooler weather, you can easily wear this with a heavier sweater or pair it with a scarf for extra warmth. I paired it with this amazing grey hat and slip on booties that will be on repeat for fall.
2. Plaid Scarf & Leopard Clutch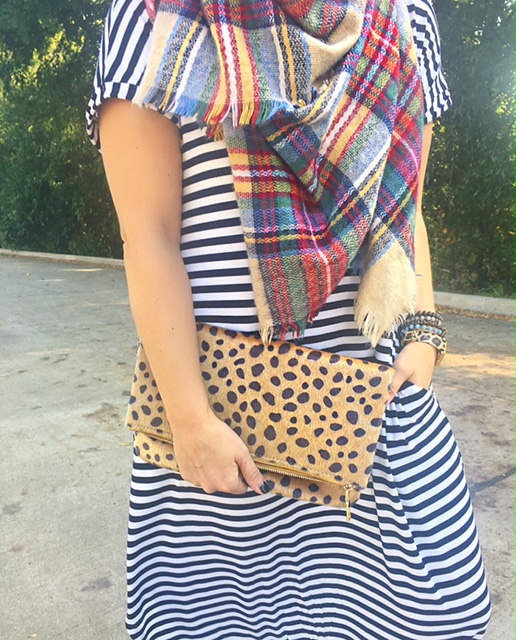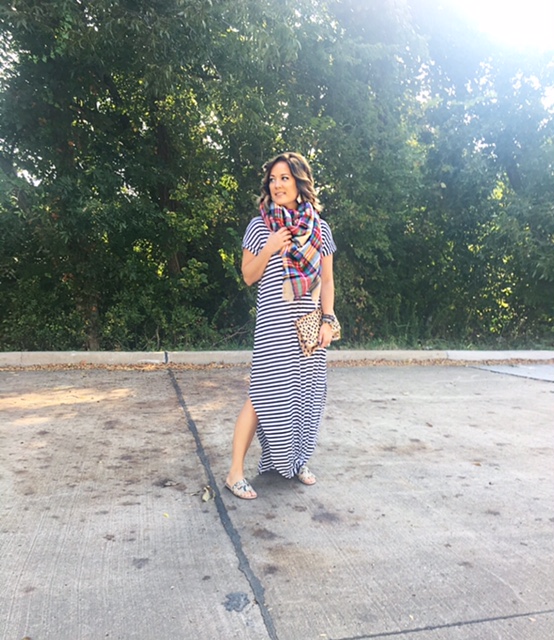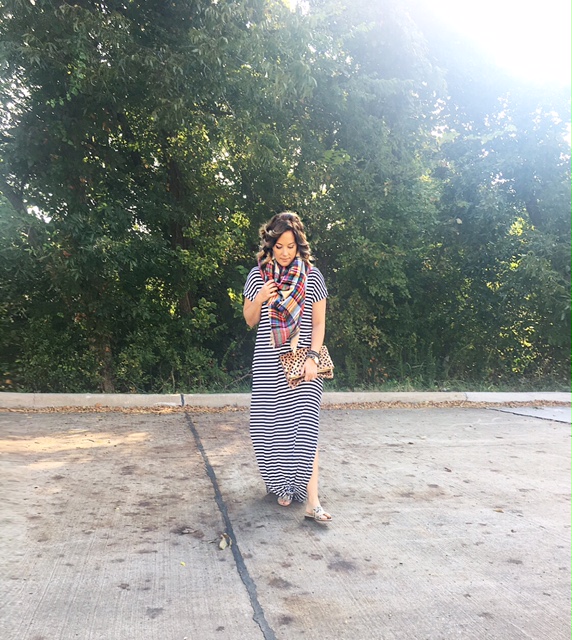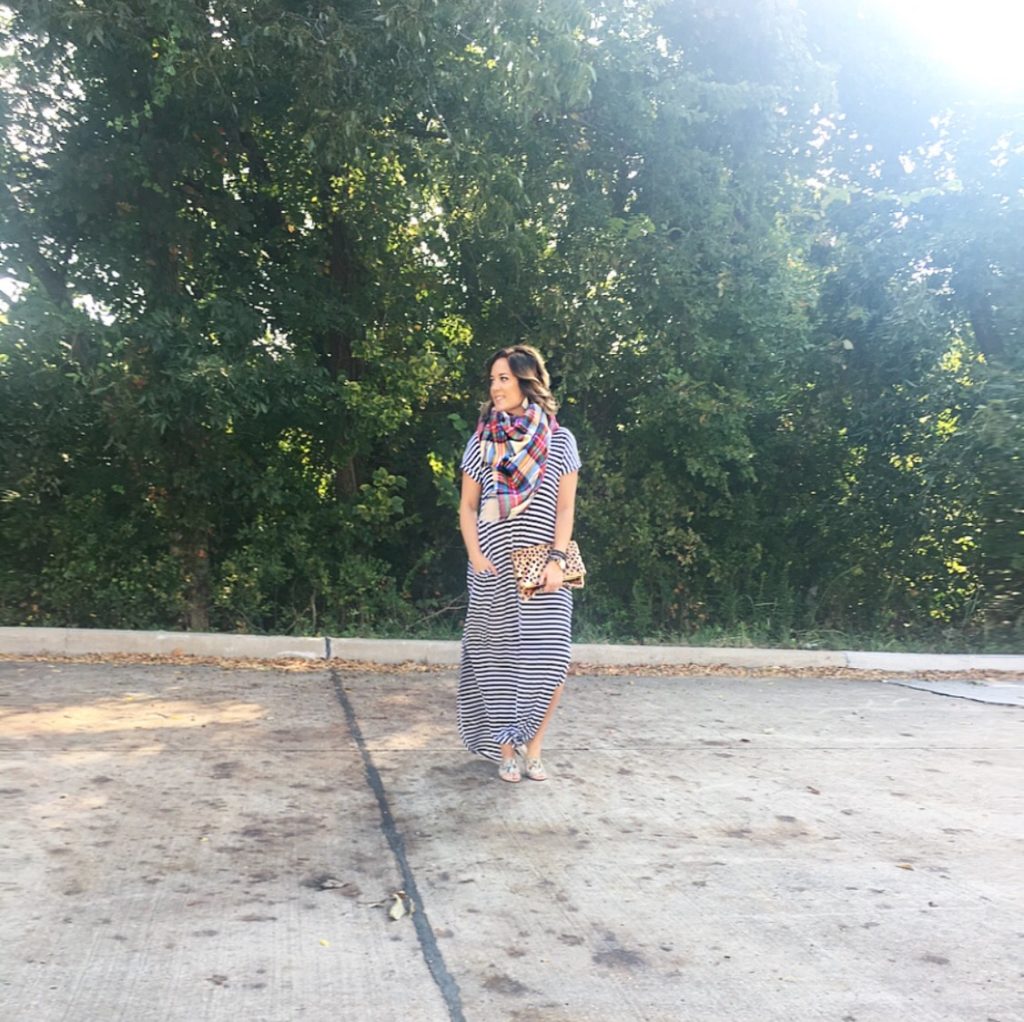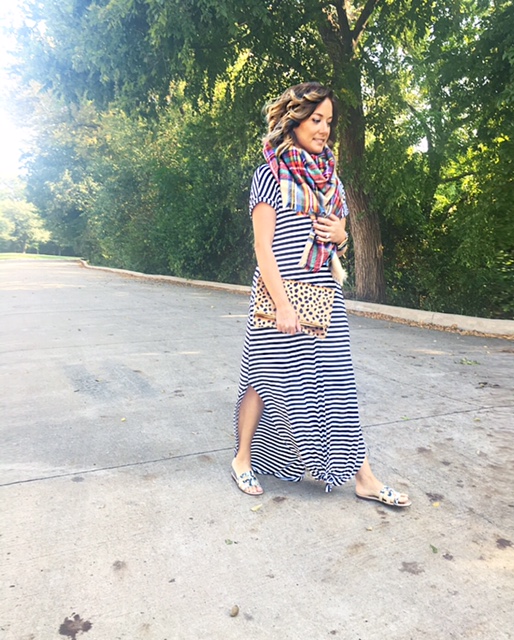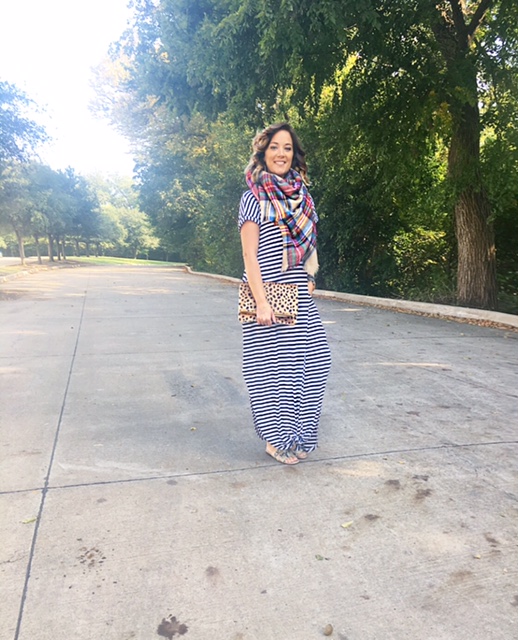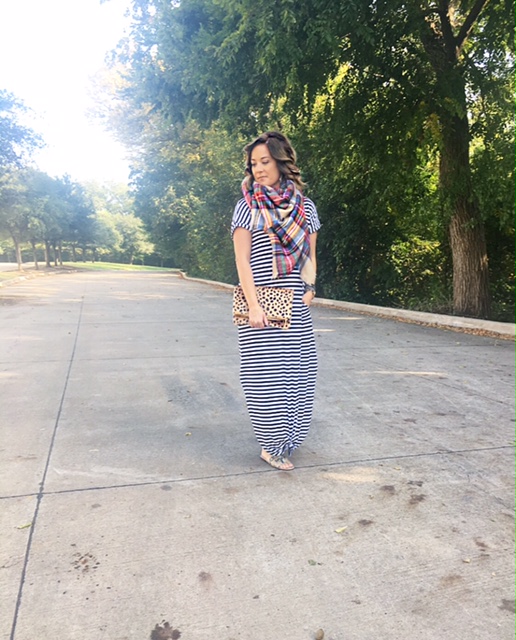 Plaid & stripes are consistently popular in fall fashion. One thing I have received a number of emails about is how to "pattern mix" these two fall trends. Literally, plaid will go with any and every pattern. This tartan blanket scarf has been a favorite of mine for a couple years because of the colors and pattern. It just screams fall! Since pattern mixing is my jam, I added some leopard (another neutral in my book) to the outfit! This clutch is my go-to and literally goes with every outfit! Since its still sandal season for us, I snagged these Sam Edelman sandals on sale this past weekend!!! 🙂
3. Chambray & Stripes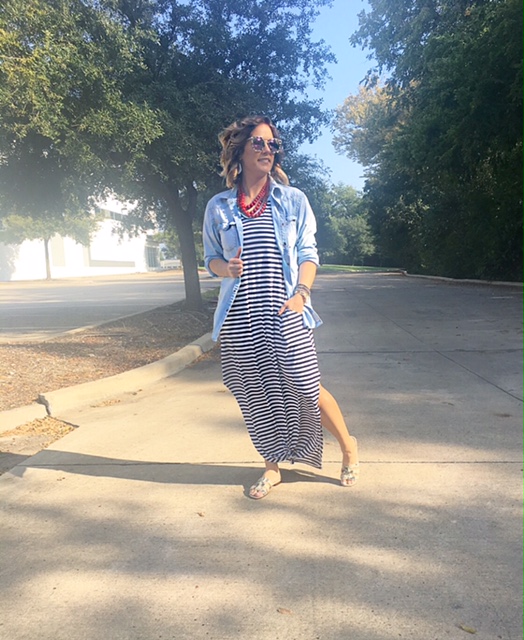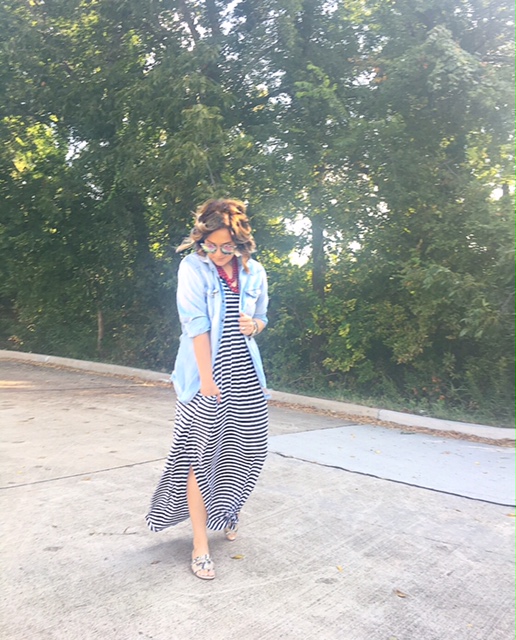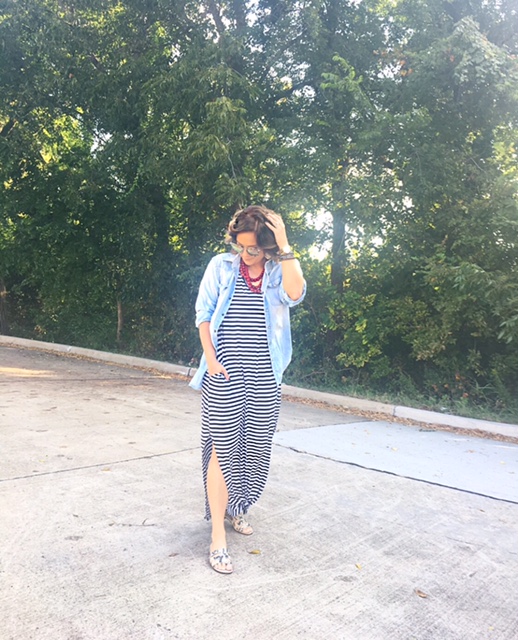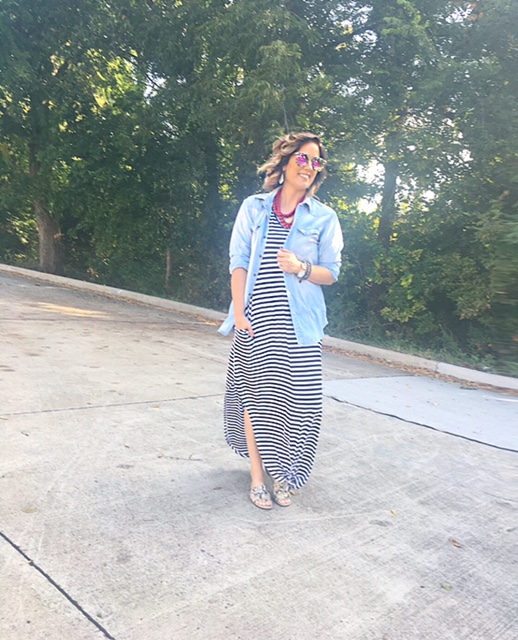 Another great way to dress up stripes is a classy, chambray top! This one has gone through all seasons and has been styled a million ways!!! It totally makes the stripes pop and makes this dress such a staple piece. A simple top like this one allows your accessories to stand out and be more of a focal point. I paired it with this fun necklace and amazing sunglasses!!
What trends are you loving for fall?
Link Ups:     Shoe and Tell!  #iwillwearwhatilike link up! Hello Monday! Mix It Monday! How I Summer! Creative Mondays!  A Lovely A La Mode Link Up! Sincerely Jenna Marie! BLoved Boston , Trendy & Tidy , Turning Heads Tuesday! Confident Tuesday! Tuesday Fashion Party On Trend Tuesday! , Trend Spin Linkup,  I Feel Pretty Link Up,  What I Wore Wednesday w/ Tucker Up, Oh, Hey Girl Link Up, Jersey Girl, Texan Heart Link Up, Fashion Frenzy Link Up,  Trendy Wednesday! Style on the Daily! What I Wore! Thursday Fashion Files!   Thursday Moda! Passion for Fashion! Fabulous Friday!  Fab Favorites!  Flashback Fashion Fridays! Weekend Wear Link Up!  Ladies Who Link Up!,  Friday Favorites, Friday Favorites with Meet @ The Barre ,  High Five for Friday Weekend Wear Link Up, Flashback Fashion Friday Link Up, Friday Favorites with Lizzie in Lace,Fun Fashion Friday Link Up , Twenties Girl Style,  Stylin in St. Louis, Living in Color, Fashion Friday,  Daily Style Finds, East Coast Chic