Hey babes! Were halfway through the week and I need a LARGE glass of wine!
I guess its time to start #winewednesday 🙂
I want to share my favorite summer beauty must-haves that I am super obsessed with! With the warmer temps and longer days, these products help keep my beauty routine in check during summer.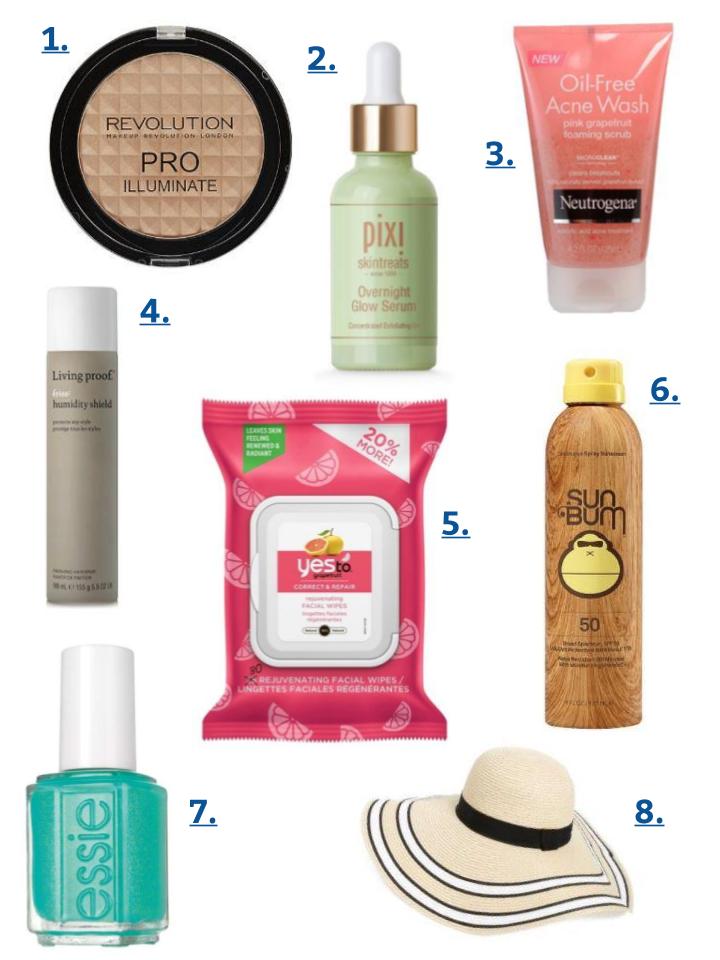 1. Makeup Revolution Pro Illuminate – This highlighter is amazing!  The texture is smooth and soft and the powder leaves a beautiful shine on the skin without being chunky. It's a shimmer brick so you can mix and match different shades to achieve a few looks from one compact. This compact is better than some other more expensive one's and helps to get that bronzed goddess look. I also like using this for my eyes and the different shades works beautifully as metallic eyeshadows.
2. Pixi Skintreats Overnight Glow Serum-  I've really been trying to up my nightly skincare routine lately, and I recently added this to the mix and love it! This glow serum is a lightweight gel and has a nice silky, finish. It actually works it's magic while you're sleeping and claims to exfoliate and soothe skin for a brighter complexion. It is also supposed to help with fine lines and sun damage, so definitely a great product to try out! I've definitely noticed my skin looks brighter and feels replenished when I wake up each morning, so that's definitely a plus in my book!
3. Pink Grapefruit Oil Free Acne Scrub – The smell of grapefruit is so clean and refreshing. I typically use Mario Badescu as my acne defense, but lately I've been incorporating this scrub. I love the smell, the foaming action, and the scrubbing beads.
4. Living Proof No Frizz Humidity Shield – This has totally changed my hair game! This is a weightless solution for dry hair application that blocks humidity even when it reaches 100% and prevents and corrects the first signs of frizz. I spray this one my hair before I go anywhere and it helps fight the frizz all day.
5. YES Pink Grapefruit Wipes  – Yes, I am obsessed with grapefruit!!! I also love anything that helps me do something faster and better. These facial towelettes smell amazing and leave your skin clean, smooth, and oh so soft. Plus, did I mention they're über portable? Yes, please!
6. Sun Bum Beach Sunscreen  – Sun lovers rejoice! Now you can protect your precious skin from the scorching sun with Sun Bum's new UV Protecting Beach Formulas! My favorite is the Beach Formula Shine On – the lightweight spray treatment not only protects skin from the harsh summer elements but also give your skin the glow of summer. Infused with a lush tropical blend of oils and sea botanicals, it revitalizes dry skin while adding manageability…and it smells yummy!
7. Essie Nail Polish –  My favorite color for summer by far! I've had so many people ask about my nail color and it just goes with everything. This color specifically is Viva Antigua! And Essie nail polish never chips for me!
8. Floppy Straw Hat – If there is one thing I do in the summer, its protect my face. I used to tan every single day back in college and I wish I never had walked into a tanning salon let alone worked at one. I put SPF on my face everyday also. I try to wear a hat at the pool to keep my face covered at all times. This hat is perfect for the pool or a fun vacay to the beach.
What are some of your favorite summer beauty products?
Brittany 🙂
SHOP THE POST: