Y,all… what day is it?!? This week has flown by and I am still writing April instead of May on my invoices at work aaahhh… I have been super busy that I didn't have  chance to post yesterday but I had several requests for my favorite self tanners so I had to share asap!
 I am a big self-tanner fan and use them on the regular. I have been putting some new self-tanners to the test and found a few that I really liked so I need to update my list. Plus I am sharing the best new way to apply self-tanner so you need to read to the end of the post so you can be assured you get an even, flawless streak free tan too. These are my new favorites – the top 8 self-tanners to fake a beautiful, faux glow.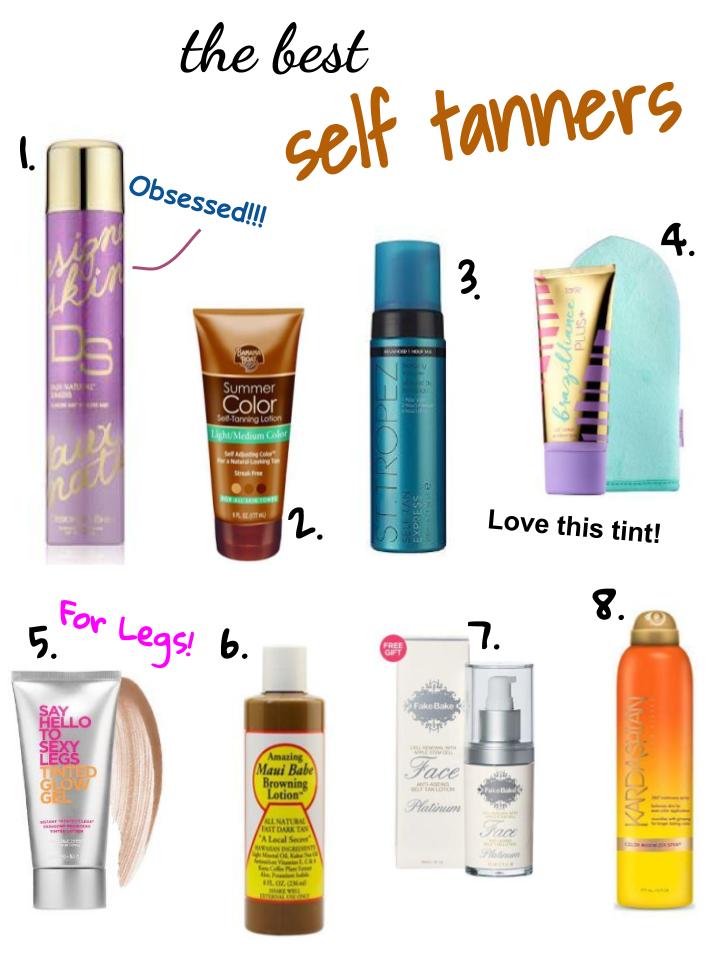 1. Designer Skin Spray / 2. Banana Boat Self Tanning Lotion / 3. St. Tropez Sunless Mouse / 4. Tarte Brazilliance + Mitt / 5. Say Hello to Sexy Legs Gel / 6. Maui Babe Browning Lotion / 7.  Platinum Anti-Aging Face Tanner / 8. Kardashian Sunless Spray
Are you ready to give you skin the glow it needs without the harmful rays? Don't forget, prolonged sun exposure is incredibly dangerous, and can lead to everything from premature aging to deadly forms of skin cancer. It's just not worth it! I actually managed a tanning salon for 5 years and I have seen it all… very scary! If I could tell my 25 year old self to stay away from the tanning beds I would have…
When you want to apply sunless tanning lotion, or self-tanners, follow these simple steps for best results:
– Exfoliate dead skin, especially places like your elbows, knees, and ankles
– Don't shave the same day you apply self-tanner
– Make sure your skin is dry before you begin application
-Wash your hands with both soap and water after each section is complete to keep them from getting unnaturally discolored (or use protective gloves)
-Wait at least ten minutes before dressing to make sure the product dries completely
-Continue to keep your skin hydrated so your new tan lasts as long as possible
-For best results, consider applying self tanner at night so it has time to work
What are some of your favorite self tanners?
Brittany 🙂
Linking up with: Friday Favorites, Friday Favorites with Meet @ The Barre, Oh Hey, Friday, High Five for Friday Weekend Wear Link Up, Flashback Fashion Friday Link Up, Friday Favorites with Lizzie in Lace, Passion for Fashion Link Up, Fun Fashion Friday Link Up ,  Mix & Match Fashion   , Twenties Girl Style,  Stylin in St. Louis, Living in Color, Pumps and Pushups, Thursday Fashion Files,  Rachel The Hat, Fashion Friday, Friday's Fab Favorites, Daily Style Finds, East Coast Chic, Friday Favorites, Casual Friday, My Refined Style
SHOP THE POST: