Happy Monday y'all! And it is a significant Monday as it is September 11th, a day that I think every American remembers. I was in the line at ChickFilA before high school when my dad called to let me and my mom know what had just happened. We still had to go to school but we watched the coverage through 1st and 2nd period then we were free to go home. Thank god because that is all I wanted to do and I know my parents were wanting to just be home as a family. It was such an eerie day! I do love knowing what other people were doing during these intense moments so share what you remember about September 11th in the comments below!!!
 On to today's post, I wanted to share this amazing burgundy sweater that is the perfect transitional piece for fall. The color is so perfect fall color.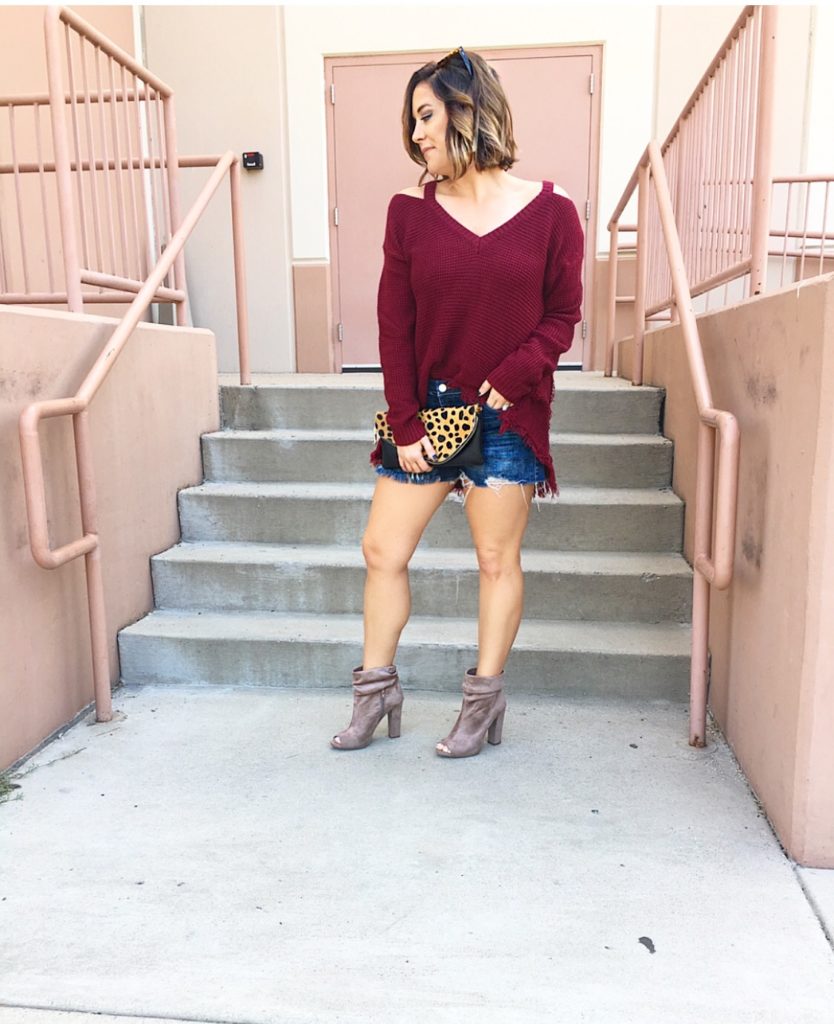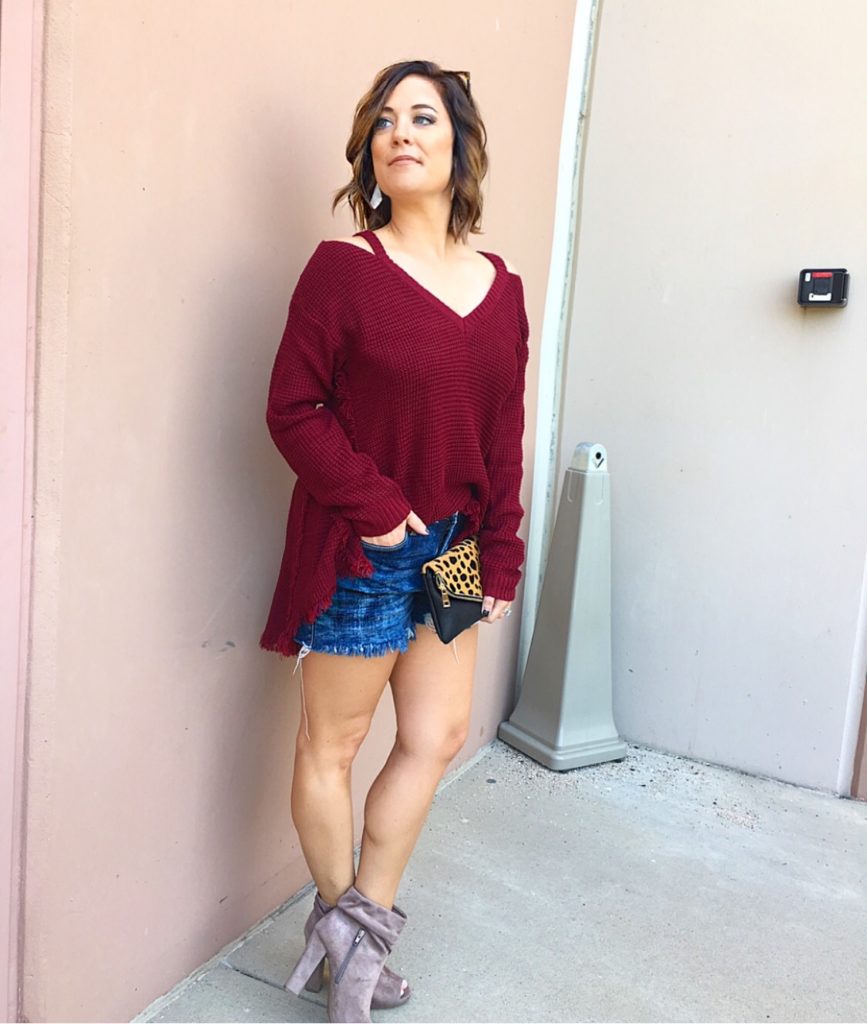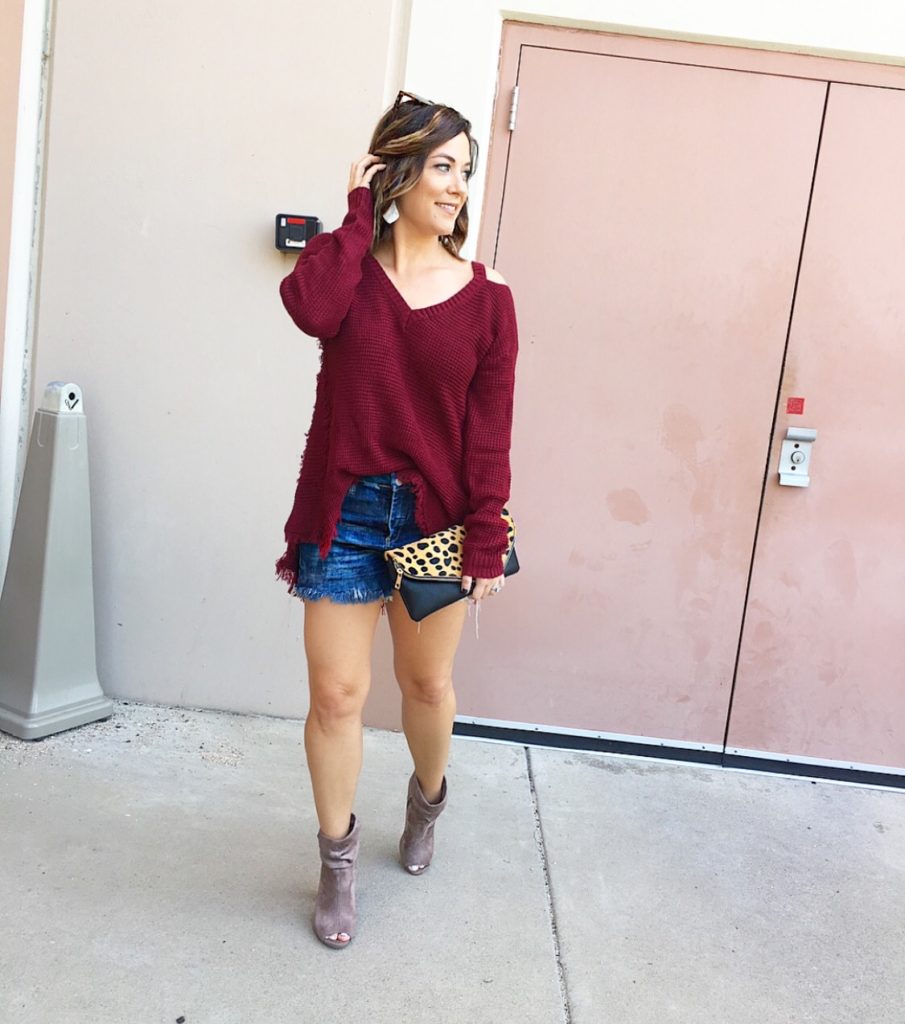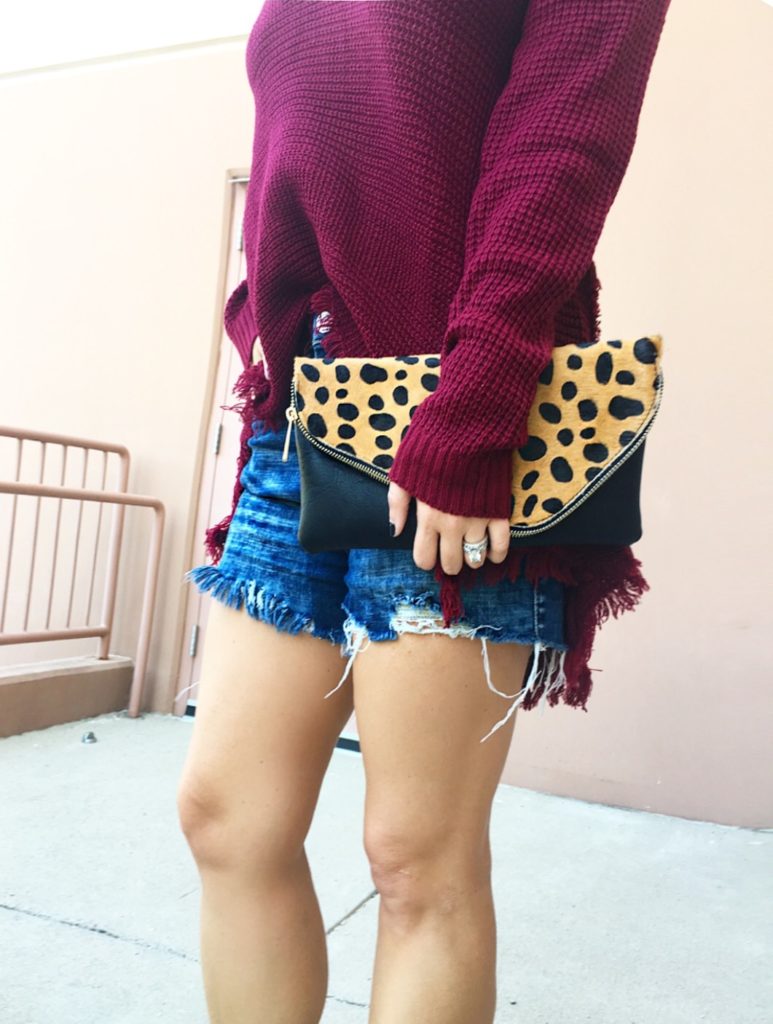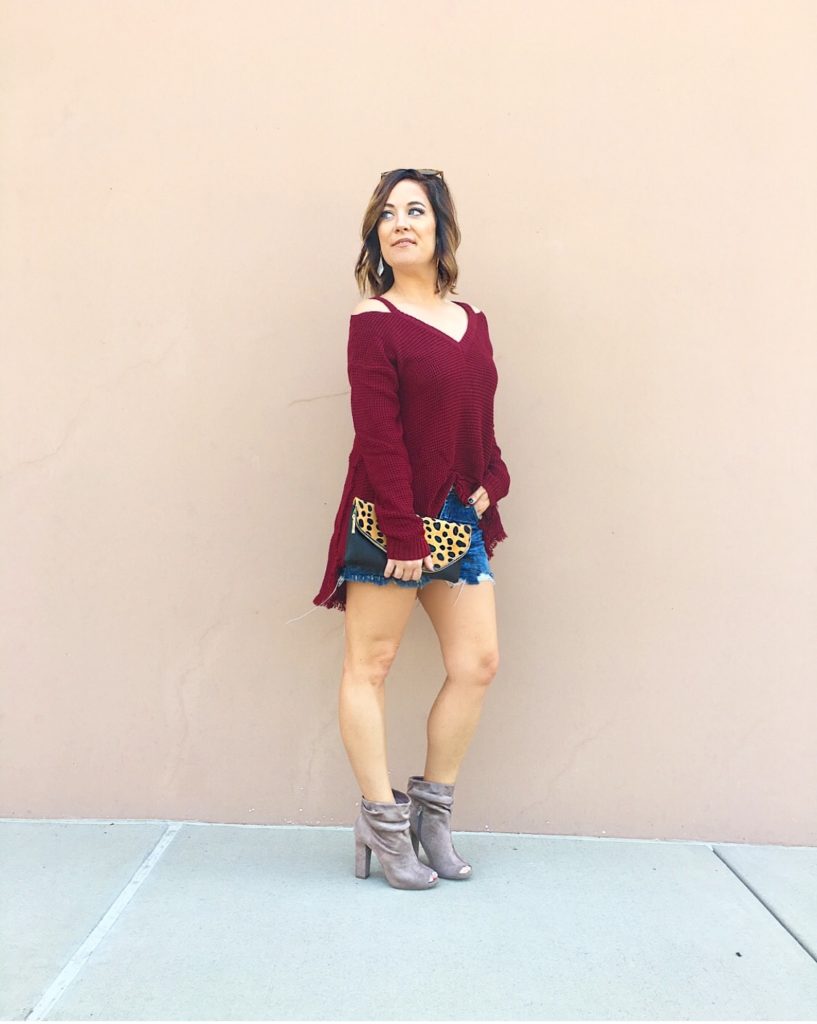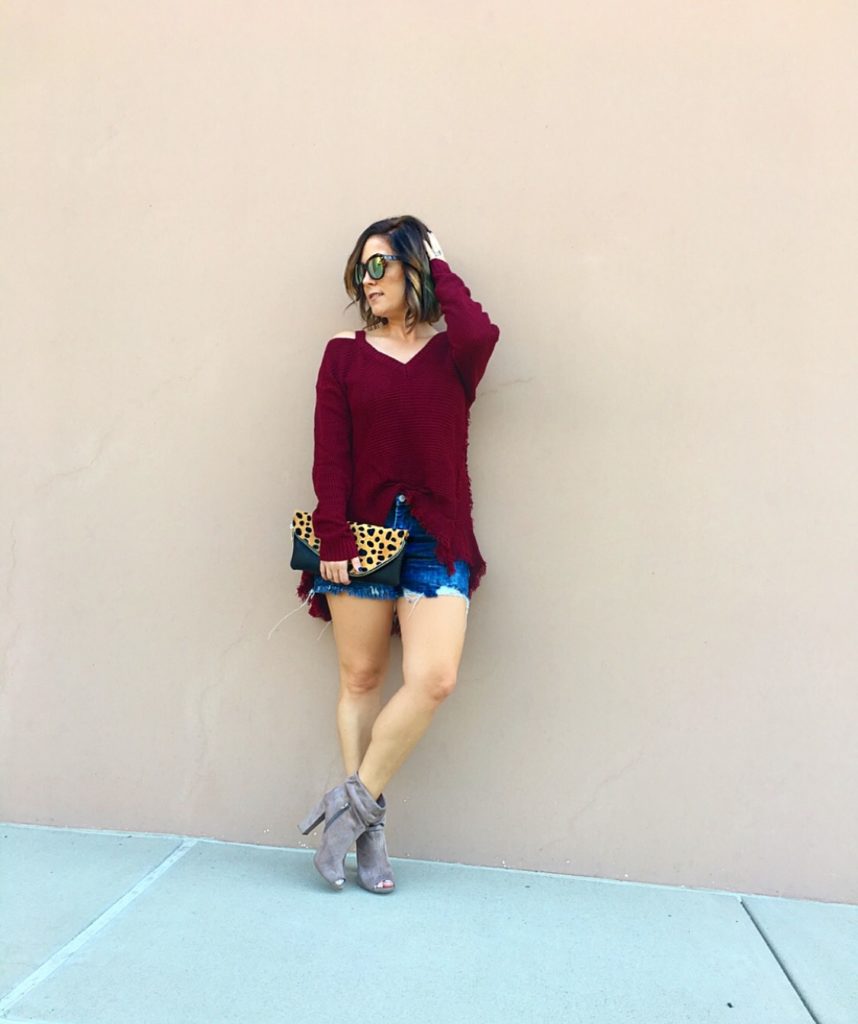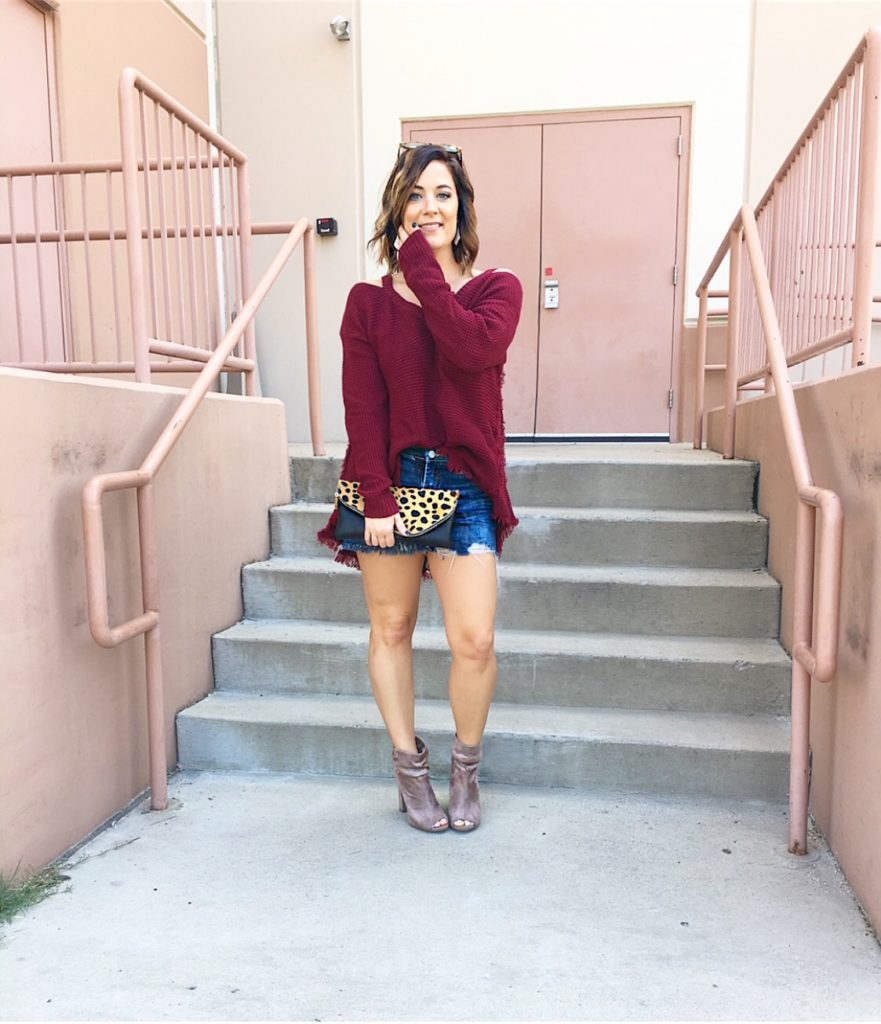 I paired this sweater with my favorite denim cutoffs that are so perfect transitioning from summer to fall. I couldnt help but pair everything with the most perfect leopard clutch and my FAVORITE booties from the Clear The Rack Sale!! I can already tell I will be wearing them non-stop. They run true to size, but if you are in between sizes I would size up. I am still getting used to my hair being short and brown but I do like how easy it is to fix. Also trying to find all the best pieces that make it look good! The struggle is reall y'all!! Any advice!!
Praying for all of those effected by Hurricane Irma and anyone in the path of the storm. I hope you stay safe and if you evacuated, you go home safely and NOT empty handed! Prayers!!!
Brittany 🙂
SHOP THE POST!!
Link Ups:     Shoe and Tell!  #iwillwearwhatilike link up! Hello Monday! Mix It Monday! How I Summer! Creative Mondays!  A Lovely A La Mode Link Up! Sincerely Jenna Marie! BLoved Boston , Trendy & Tidy , Turning Heads Tuesday! Confident Tuesday! Tuesday Fashion Party On Trend Tuesday! , Trend Spin Linkup,  I Feel Pretty Link Up,  What I Wore Wednesday w/ Tucker Up, Oh, Hey Girl Link Up, Jersey Girl, Texan Heart Link Up, Fashion Frenzy Link Up,  Trendy Wednesday! Style on the Daily! What I Wore! Thursday Fashion Files!   Thursday Moda! Passion for Fashion! Fabulous Friday!  Fab Favorites!  Flashback Fashion Fridays! Weekend Wear Link Up!  Ladies Who Link Up!,  Friday Favorites, Friday Favorites with Meet @ The Barre ,  High Five for Friday Weekend Wear Link Up, Flashback Fashion Friday Link Up, Friday Favorites with Lizzie in Lace,Fun Fashion Friday Link Up , Twenties Girl Style,  Stylin in St. Louis, Living in Color, Fashion Friday,  Daily Style Finds, East Coast Chic